Pickleball is Sweeping the Nation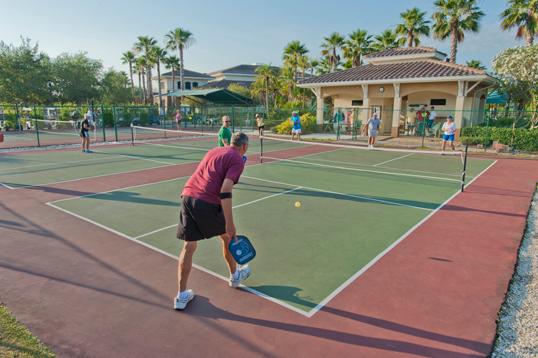 Said to be the fastest growing sport in America, pickleball is sweeping the nation and baby boomers are loving it. Despite its unusual name, the sport has nothing to do with pickles. Pickleball is actually a paddle sport that combines elements of tennis, badminton, and ping-pong. The game is played as singles or doubles with a wiffle ball on a badminton-sized court and a tennis-style net.

Not only is pickleball a great way to exercise, but it is also a great way to make friends, as it is a social sport. Players of all ages and athletic abilities enjoy the sport due to the ease of play and straightforward rules. If you once enjoyed racquet sports, but now have limited physical capabilities, pickleball may be for you. Here's a brief overview of our newest pickleball communities:
Two Rivers
Odenton, MD

Two Rivers has a focus on community and keeping residents connected with group activities such as pickleball. Four hard-court tennis courts also serve as pickleball courts, so you can have your choice between the two.
Heritage Vineyard Creek
Sacramento, CA

Two lighted pickleball courts are currently being built at this 55+ community in Sacramento, California. Heritage Vineyard Creek is designed to give its residents everything they need to stay active, social, and healthy.
Bella Vista
Bella Vista, AR

A 36,000-acre recreational community and retirement destination, Bella Vista has been named one of America's Top 10 Best Healthy Places To Retire by U.S. News & World Report. Pickleball is just one of many recreational activities offered, including golf, boating, fishing, walking & biking trails, and more.
K. Hovnanian's® Four Seasons at Orlando
Kississimmee, FL

This newly opened 55+ community is located within the distinctive Mystic Dunes Resort & Golf Club. Join the pickleball club or pick up a game with neighbors.
Mirabella Florida
Bradenton, FL

The maintenance-free lifestyle and year-round sunny climate at Mirabella Florida allow you plenty of time on the court. This 55+ neighborhood is located within one of Bradenton's most sought-after communities.

Woodforest
Montgomery, TX

This top-selling Houston-area community is home to the 55+ community Bonterra. Not only do residents have access to pickleball courts, but also bocce ball, walking & biking trails, and all of Woodforest's amenities.

Bellazo
Nosara, Costa Rica

Pickleball is among the planned amenities for this luxury gated community set on the Gold Coast of Costa Rica. Surrounded by ocean views and lush tropical greenery, your pickleball match is sure to be scenic!

View More Pickleball Communities