Best Retirement Beach Towns in Florida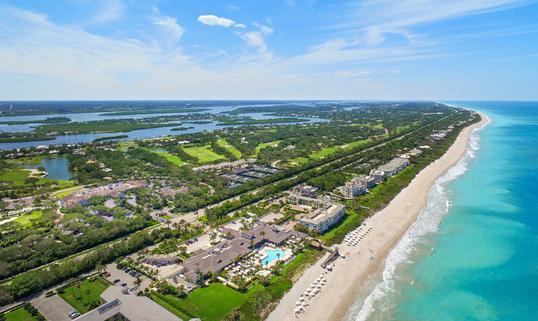 Whether the siren call of the Atlantic's crashing waves have always beckoned, or you're just fed up with sub-freezing temperatures and blowing snow, you're certainly not alone as you consider retiring on the Florida coast. We're here to kick-start your Sunshine State research with a few of the best Florida beach towns with retirement communities.
Sarasota Retirement Communities
Not only is Sarasota, FL, one of the best beach towns for retirement, but according to US News, it's one of the "Top 20 Most Desirable Places to Live," period. Nestled between Tampa and Naples along the Gulf of Mexico, Sarasota is a relaxed coastal city with a small town vibe. Several active adult retirement communities pepper the coast line, with a variety of homes ranging from condos and townhomes, to single family homes and custom estates. If you're looking for healthy living, peaceful ocean views, and an average year-round temp of 72 degrees, Sarasota just might be your ideal retirement destination.
From Sarasota, head a tad south on the white sands of Florida's Gulf Coast and you'll land on what Coastal Living calls one of the "10 Happiest Seaside Towns." Known for Venice Beach, a downtown inspired by northern Italy's stunning architecture, and its offshore coral reef, Venice, FL, offers vibrant waterfront retirement communities with affordable homes starting around $190,000. You'll enjoy fourteen pristine miles of beach that provide retirees plenty of options for swimming, fishing, boating, shelling—and for golf enthusiasts, dozens of courses to choose from.
Located along Florida's famed Treasure Coast, Stuart, FL, is known as the "Sailfish Capital of the World." Perfect if you're hoping to reel in some big fish upon retirement. Often cited as one of the best small towns to visit in the U.S., it also makes for some pretty good permanent living. Oceanfront retirement communities feature private shorelines, championship golf courses, and all the community feels that come with living in a retirement paradise. The town's proximity to St. Lucie River and Indian River Lagoon give outdoor enthusiasts plenty to take in—from bird-watching and butterfly gardens, to hiking trails and sea turtle nesting areas.
Naples, FL, is one of those towns you'll always see on lists boasting the best places to live in the United States. The high demand among retirees looking for ideal waterfront retirement communities has earned Naples the distinction of being one of the more affluent Florida cities. No surprise when you consider its location right on the Gulf of Mexico, a dynamic downtown district, breathtaking sunsets, and high density of world-class golf courses. PCR showcases seven master-planned retirement communities in Naples, with a wide-range of home prices, amenities, and activities to suit the needs of every active adult retiree.
Vero Beach Retirement Communities
Another city you'll find on one of America's "Best Of..." lists is Vero Beach, FL, honored in the category of "best small town." For many, this Treasure Coast gem is Florida's best kept secret, with a laid back Old Florida way of life that retirees find so welcoming and attractive. There are a variety of waterfront Vero Beach communities you can research through PCR—each with their own unique features and amenities—but they all share a common bond: some of the best beach vibes you'll find anywhere.