Most Affordable Golf Communities in South Carolina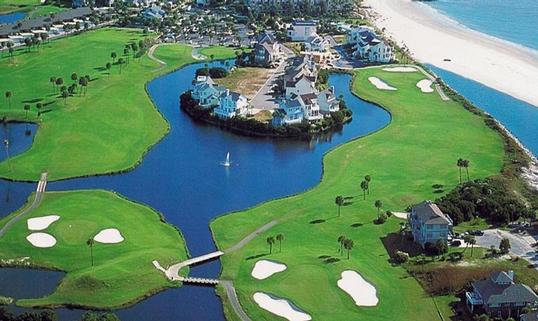 You won't find many "best of" golf retirement destination lists that don't include South Carolina. But did you know many of the golf communities in The Palmetto State are also pretty inexpensive? It's true, and here we'll share details on some of those most affordable golf communities in South Carolina.
Fripp Island- Fripp Island, SC
Homes, Condos: $119,000 - $2,100,000
With two acclaimed championship golf courses, the 3,000-acre gated community was recently honored as one of Links Magazine's "100 Best Golf Resorts in North America." This affordable South Carolina golf community is a designated wildlife sanctuary that combines scenic coastal nature areas and private beach access with an appealing array of real estate options, resort services and recreational amenities, including: a beach club complex, two golf clubhouses, a racquet club and a children's activity program, with multiple dining options, swimming pools and a grocery store on-site.
Homes: $150,000 - $750,000
This 650-acre gated golf community in South Carolina is home to approximately 550 homesites ranging from interior to lakefront properties. A great setting for both retirees and families, Wyboo Plantation offers activities beyond just golf, including tennis, fishing, swimming, water aerobics, pickelball, and more. With a variety of lifestyle options ranging from low-maintenance patio homes to estate sized homes, Wyboo stands apart as one of South Carolina's most affordable golf communities.
Mount Vintage- North Augusta, SC
Homes: $300,000 - $500,000
Golf course architect Tom Jackson designed twenty-seven holes that fit perfectly into the diverse topography of this affordable golf community in South Carolina. The clubhouse is centered on a fully restored piedmont plantation house, circa 1840. The golf club is semi-private and also includes a state-of-the-art practice facility, professionally staffed Pro Shop, private lockers and The Grille. Convenient to shopping and entertainment, The Blue Ridge Mountains, Atlantic Ocean beaches, and the cities of Atlanta and Charlotte are just a two and a half hours drive.
Savannah Lakes Village- McCormick, SC
Homes: $150,000 - $900,000
Featuring two 18-hole lakefront golf clubs, clubhouses, and a recreation/cultural center with tennis and indoor/outdoor pools, this 4,000 acre South Carolina golf community borders the pristine 70,000 acre Lake Thurmond, 63,368 acres of preserved state park and national forest land, and the Little River Blueway Outdoor Adventure Region. Savannah Lakes provides a vibrant lakefront lifestyle with an exciting mix of recreational and social events for both residents and visiting friends and family.
Homes, Townhomes, Condos: $100,000 - $1,000,000
Nestled in the foothills of the Blue Ridge Mountains and surrounded by the pristine waters of Lake Keowee, this SC gated golf community offers a wide variety of home styles and price points in a natural setting with mild seasons and an abundance of social opportunities. Keowee Key's 18-hole George Cobb golf course was renovated in 2006 by Pinehurst architect Richard Mandell, with a topography that challenges all players and three full-time golf professionals on staff to help players improve their game.