How to Find Your Perfect Snowbird Community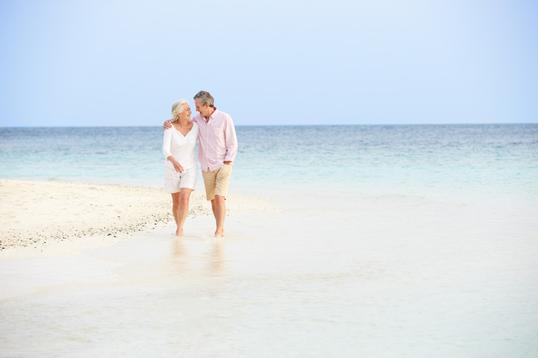 If you're growing a little weary of winter wonderlands and frosted window panes, maybe it's time you ditch the snow shovel and heavy coats once and for all—and follow the sun to your temperate snowbird lifestyle.
Some snowbirds find a regular spot close to family and friends in the winter, while others change up their annual migration. Wherever your quest for sunshine and balmy temps takes you, here are some tips to find, plan, and prepare for your ideal snowbird community.
Rent or Buy?
January through March or April is peak snowbird season. Some migratory renters settle on a location to return to year after year, and often rebook the same place before they depart each spring. Other renters like variety and switch up their snowbird rentals every year—researching and booking as early as August. Here's a ballpark on the average rent you can expect to pay during winter/spring months in a few seasonal destinations:
Arizona: $2,500-$3,500 (condo), $3,000-$9,000 (single family)
Texas: $900-$2,000 (condo), $1,400-$2,500 (single family).
Florida (Central): $1,500-$6,000 (condo), $2,500-$10,000 (single family).
Florida (E. Central Coast): $2,800-$6,000 (condo), $3,200-$9,000 (single family).
Florida (Panhandle): $800-$2,200 (condo), $1,100-$3,500 (single family).
Florida (South): $2,500-$8,000 (condo), $5,000-$12,000 (single family).
Another option for landing in an affordable snowbird destination is to find your ideal winter spot and buy a second home there. The best time for snowbirds to buy is late spring, when much of the competition has flocked back home. And while your winter vacation home can be a smaller house or condo purchase, there are the added costs of insurance, property taxes, and furnishing two residences. For snowbird homebuyers, some states are far more affordable than others.
Best Places For Snowbirds
Here's a list of first-class snowbird communities with plenty of unique options for those seeking a second seasonal home, conveniently broken down by state.
More Tips For Snowbirds
Winterize Your Home. Before heading out to your sunbelt vacation home, you should prep your primary residence for the cold months ahead. This includes shutting off the water, draining pipes, turning down the thermostat (most insurers require maintaining adequate heat of 55 to 65 degrees), and unplugging electronics and appliances. It's also wise to have someone you trust house sit while you're away, or at least stop by on occasion to check on the place.
Consider the Car. If you're flying to your snowbird community, you'll want to winterize your vehicle and prep it for storage. If you're taking the car, be sure to check your auto insurance as it may need to be registered in your temporary state and insured with minimum liability coverage—depending on how long you stay.
Postpone Services For the Season. Email and auto-pay allow many snowbirds to handle bills while they're gone for the winter, and it's a good idea to notify your bank and credit card issuers of your travel plans. Most cable and internet providers give you the option of suspending your service for a few months. Newspapers can be put on vacation hold, while mail can easily be set up to forward to your snowbird destination.
Mind Your Medical Care. If you're 65 or older and on Medicare, you should be able to maintain coverage wherever you go in the U.S. If you use private health insurance, you'll need to research whether there are doctors in your winter locale that are covered by your healthcare network. Make sure your prescriptions are current and written for 90 days if possible, and confirm that you can get refills from a pharmacy in your snowbird community.
It still takes some planning and preparation, but with today's abundance of online research options and our increasingly connected world, it's easier than ever to find, migrate, and settle into your perfect snowbird community.