Benefits of Living in a Master-Planned Community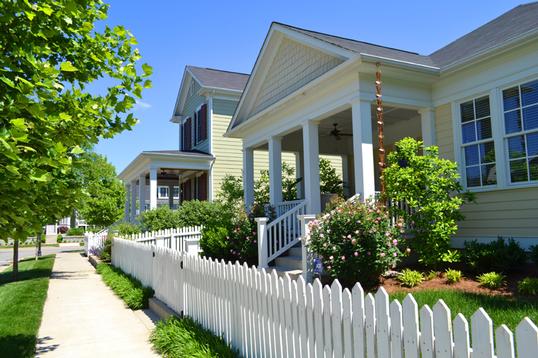 Needless to say, there are many things to consider when searching for a house. Price, location, home/lot size, and school district, to name just a few.
Community atmosphere can also be a big factor for many home shoppers. Is it a nice neighborhood? Will we be close to amenities and daily conveniences? Are the neighbors respectful homeowners? Are there fun activities to do in the immediate area…?
With master-planned communities, the answer to all the above questions is a resounding "yes."
What is a Master-Planned Community?
Surging in popularity over the past several years, master-planned communities are large-scale residential areas (usually more than 2,500 acres in an urban or suburban environment) with an assortment of custom homes and an impressive number of recreational and commercial amenities.
These planned residential communities appeal to a variety of lifestyles and feature things like a community clubhouse, golf courses, swimming pools, tennis courts, lakes, parks, walking trails, and more.
Beyond the comforts and conveniences, there's no doubt that master-planned communities are good investments.
Reasons to Buy in a Master-Planned Community
An assortment of amenities. Typical offerings in most master-planned communities include clubhouses, resort-like pools, athletic courts, and fitness centers. Often, that's just the beginning. Outdoor recreational space with hiking and biking trails, green spaces, and dog parks are not uncommon. Some even include their own grocery stores and restaurants!
Your place to live, work, and play. Beyond the impressive list of amenities that come with a community master plan, you'll be a part of a haven specifically-designed to give residents the feel of being in their own little town. Shops, offices, and event venues highlight some master-planned communities while others focus on boating, golf, equestrian, and a variety of other lifestyles so you can do what you love while staying active and healthy.
Diversity of custom homes. A big selling point with a community master plan is the variety of home options, some featuring properties from dozens of high-quality homebuilders. A mix of neighborhood types in master-planned communities usually includes housing options from single-family homes to condos to townhomes. Floor plans and unique customization options appeal to a spectrum of tastes and styles, and a wide range of pricing options make living in a master-planned community more affordable than you might think.
A true sense of community. Social clubs for those with common interests and hobbies, planned special events, and centrally-located gathering places inspire a unique camaraderie and neighbourly environment. Well-lit streets, homes with front porches, gated security, and reduced traffic also make master-planned communities more inviting—not to mention safer—than traditional neighborhoods.
For families, empty nest baby boomers, and retirees alike, the many benefits of living in a master-planned community are undeniable. PCR features hundreds of planned residential communities. Start your search today, and find your next home here.