Benefits of Living in a Golf Community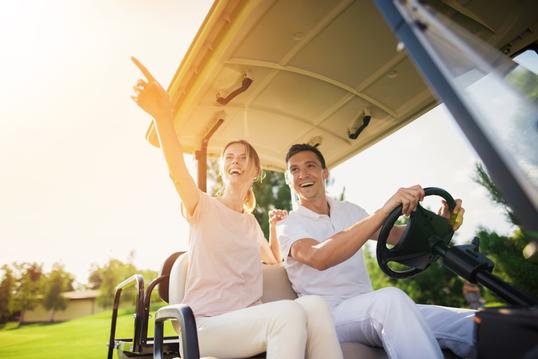 Aside from the general coolness that comes with telling people "I live on a golf course," or even upping the ante with the added gravitas of "I live in a golf community," there are a lot of more practical advantages that come with it, too.
Here's a look at some of the top benefits of living in a golf course community.
The Neighbors Are Your Kind of People. You're all going to enjoy golf, that's a given. But living in a golf community often also means age restrictions (typically 55 and over), and for active adults and seniors looking to unwind with a links-focused lifestyle, being among people of a similar age is a huge bonus.
And They Give You Some Breathing Room. Not only are the vibes pretty relaxed for golf community residents, but buying a house on a golf course is ideal for those who like a little extra privacy. Sometimes the closest neighbor is on the other side of the fairway, after all.
There's an Abundance of Amenities. Golf is usually just the beginning when you choose to live in a golf course community. Sure, the course(s) are the apex of the amenities, but these master-planned lifestyle communities transcend golf with posh clubhouses, fitness centers, spas, pools, tennis and pickleball courts, walking trails, and much more.
Lively Community Events. Another perk of living in a golf course community is the sense of, well, community. Many even have event directors on staff to plan fun gatherings, activities, get-togethers, and parties throughout the year. It's an easy way to stay social and make new friends and meet your neighbors without having to go too far from home.
Primo Real Estate. Let's start with the immaculate views and surroundings. Buying a house on a golf course means a glance out your window presents a tranquil pond, glistening sand trap, lush fairway, or undulating green. And it's not just the courses that are meticulously manicured—golf community HOAs make sure all real estate properties meet only the highest standards, as well. Add the high demand for living in a golf community, and your resale value is second to none.
Pick a (Tee) Time, Any Time. When you live on a golf course, just walk out your front door and you can't be far from the first tee box. This effectively eliminates the stress of preparing and commuting to make a super early tee time. Also, residents and members of golf communities usually get first dibs/preferred tee times each day.
Start your search for the perfect golf community today! Head over to PCR where you'll find hundreds of desirable golf communities in dozens of states throughout the U.S.