Retirement Communities with RV Storage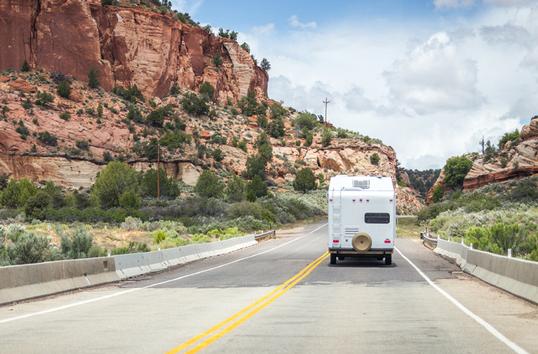 While we all have our unique visions of what retirement should be, there is one sentiment that unites pretty much everyone: retirement equals freedom. And what better representation of true freedom is there than taking the wheel of your decked out motor home and hitting the open road?
If this is your idea of the perfect retirement lifestyle, we're totally jealous...but chances are you'll still want a home base that doesn't have wheels—so you're going to need somewhere to put your RV when you're not cruising the country. To help you out, here are 5 of our favorite retirement communities with RV storage.
Property owners in this gated Georgia community can store their motor homes on site in a designated dry storage rental facility. A terrific home base for those who love to road trip through the great outdoors, Lake Arrowhead is ranked as one of the cleanest lakes in the state and is ideal for pontoon boating, canoeing, kayaking, row boating, and small craft sailing. Residents stay active and connected with year-round activities such as outdoor concerts, drive-in movies, golf tournaments, wine tastings, health & wellness classes, and more.
Centered around a nationally-ranked Mark McCumber golf course, this retirement community with RV storage encompasses a wide range of affordable homesites, home designs and existing homes to suit a variety of budgets and lifestyles. In addition to world-class golf, residents enjoy a newly-renovated clubhouse, a kayak rack, tennis courts, walking and biking paths, and The River Club including a state-of-the-art fitness center, a junior Olympic swimming pool, and a marshfront Tiki Hut. The community dock provides a direct navigable link via the St. Marys River to the Intracoastal Waterway and Atlantic Ocean.
This charming community features new homes, tree-lined streets, an active social life, and a variety of recreational amenities. A retirement community featuring RV and boat storage, the nature trails and wooden walkways, fishing lakes, parks, and wildlife viewing make this coastal Georgia location an outdoor enthusiasts shangri-la. The low country style clubhouse features rocking chair-lined porches overlooking the pool and is staffed by a "lifestyle team" that creates a full calendar of events such as wine tastings, holiday gatherings, book club, aqua zumba, yoga classes, and much more.
Located in "America's Happiest Seaside Town," Celadon is an active community positioned on Lady's Island in Beaufort, South Carolina. This thoughtfully planned community is a traditional neighborhood development, meaning that residents have easy access to daily activities and public spaces. Encouraging an active outdoor lifestyle, this RV-friendly retirement community has dedicated green spaces and manicured walking trails throughout the neighborhood. Ponds and lush greenery provide a natural sanctuary for native wildlife, allowing opportunities for fishing and bird watching.
Nestled in the foothills of the Smoky Mountains of eastern Tennessee, this retirement community with motorhome parking encompasses 5,000 acres and 40 miles of shoreline along the fresh clear waters of Tellico Lake. An abundance of recreational facilities and amenities including a yacht and country club for social activities create a strong sense of community and the close proximity to the Great Smoky Mountains National Park, Pigeon Forge, and Gatlinburg give you plenty of nearby RV adventures.