Surviving the Pandemic: 5 Ways Home Equity Can Help You Thrive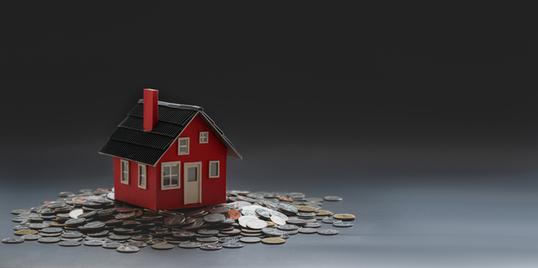 Let's face it, times are changing. The economy and financial markets have faced challenges and increased volatility. In the past, financial planners recommended using home equity as a last resort and letting it appreciate over time. However, for those who have 50% or more equity in their home, it should certainly be a consideration in a long-term retirement plan. Here are five reasons to consider home equity as part of your retirement plan:
1. Improve the likelihood of funding your retirement lifestyle
The worst scenario for a retiree is poor market returns in the early years of retirement.. It's known as Sequence of Returns Risk. If you must liquidate investments to fund living expenses during a down market, the chances of your investments recouping their value in retirement will be significantly diminished.
If stocks must be sold when the valuation is down, it can be dire for funding long term retirement plans. Withdrawing money at the beginning of retirement could have a dramatic effect on the viability of your plan, which is compounded by the need to sell at the bottom of a market cycle. A Home Equity Conversion Mortgage (HECM) line of credit may be the perfect standby to resolve sequencing risks.
Dr. Wade Pfau, professor of retirement income at the American College of Financial Services and founder of RetirementResearcher.com states, "in particular during today's environment, helping to leave the portfolio alone and not spend from it after a market downturn and sourcing that spending from the reverse mortgage line of credit can help to preserve the investment portfolio, and to create long-term positive impact [safety] net as a piece of a reverse mortgage."1
2. Right-size/Relocate to another home
Many seniors are unaware that a HECM may be used to purchase a new residence. Are you considering an all-cash close to avoid monthly payments on a mortgage? Would you like to get more house than an all-cash closing can provide? Or, do you like the idea of only requiring half of the liquid funds to buy your new home? The HECM may be the perfect vehicle.
Using a Reverse for Purchase financial product, you can leverage the equity from your original house to get a more expensive home and/or have cash left over for your retirement plan, travel, pay for your grand children's education, or anything you want by getting a HECM loan instead.
3. Relieve Stress of Monthly Mortgage Payments
For most homeowners, mortgage payments are the most significant monthly expenses, and most of the popular solutions for financing retirement, such as forbearance, second mortgages, and home equity lines of credit are far down the list of wise-money decisions for seniors.
Why? All of them can cause detrimental stress in retirement. With a reverse mortgage, those issues could be handled. No one is going to hassle you about mortgage payments and your stress level as well as quality of life will be enhanced immediately.
4. Delay Starting Social Security Benefits
While Social Security seems complex, in general, understanding the differences in collecting at age 62, 66 ½ or 70 is relatively easy. If you are healthy and don't require additional monthly income, it could be in your best interest to delay the benefit payments.
As a quick example of someone born in 1957, every year delayed collecting benefits past 62 translates to an increased benefit of about .667% monthly, or 8% per year. For instance, if a person at age 62 started accepting benefits, they may receive $1,450. At age 66 ½ they would receive about $2,000. At age 70, they would receive about $2,560 per month. Again, if you are healthy (working or not), it may make sense to delay your Social Security benefits to get an 8% increase in monthly benefits..
The solution? Why not utilize the HECM Line of Credit (LOC) and draw funds from the line when needed? While you should always consult with your trusted advisor, in many cases it is worth delaying Social Security and collecting the increased amount available to you at a later age.
5. Protect and Preserve the Value of Your Home
Per Harvard.edu2, historical data shows that the housing market crashes about every 18 years.2 However, those figures do not account for significant interruptions, such as a global pandemic. With a reverse mortgage, your home value is locked-in at the time of the loan. The reverse mortgage is a non-recourse loan that neither you, nor your family, will ever have to worry about becoming a more significant personal burden even if the housing market drops in the future. The HECM LOC can never be frozen or called, without significant default of the loan terms caused by the borrower.3
As always, the above information is the tip of the iceberg in what you need to know about one of the safest government-insured (as well as non-government proprietary jumbo reverse) loan products available. As with any financial instrument, you should always consult the HECM and proprietary jumbo reverse rules and protections with a trusted financial professional and an experienced reverse mortgage originator.

1 https://reversemortgagedaily.com/2020/04/07/pfau-reverse-mortgage-line-of-credit-can-protect-against-economic-shock//
2 https://blog.dce.harvard.edu/extension/how-use-real-estate-trends-predict-next-housing-bubble
3 Potential significant defaults include not paying taxes, insurance, HOA Fees, or not disclosing the last surviving borrower no longer lives in the home as their primary residence.
Richard W. McWhorter, NMLS 1618644, with McWhorter Mortgage, LLC, NMLS 1486483, is an independent reverse mortgage specialist exclusively serving Florida (FL LO-44137) and Georgia (GA Mortgage Residential Licensee 57530). With years as a CPA, real estate finance and residential development executive as well as a mortgage originator, he brings a perfect blend of experience, persistence and reverse mortgage knowledge to assist his 62 and over clients in securing their forever home, or just long-term financial peace of mind. Follow him on LinkedIn, the McWhorter Reverse Mortgage website or contact him directly at richard@mcreverse.com.
Finance of America Reverse LLC (FAR) is the top ranked reverse mortgage lender on Consumer Affairs. We are one of the oldest reverse lenders in the market today. FAR has been the #1 Wholesale reverse mortgage lender for 8 years and counting…
FAR is part of the greater Finance of America family of companies providing excellence in lending across residential mortgage, commercial, retirement, personal and student lending. Our foundation, Finance of America CARES, actively works to address the needs of seniors around the country.
Oregon Only:·When the loan is due and payable, some or all of the equity in the property that is the subject of the reverse mortgage no longer belongs to borrowers, who may need to sell the home or otherwise repay the loan with interest from other proceeds. FAR may charge an origination fee, mortgage insurance premium, closing costs and servicing fees (added to the balance of the loan).·The balance of the loan grows over time and FAR charges interest on the balance.· Borrowers are responsible for paying property taxes, homeowner's insurance, maintenance, and related taxes (which may be substantial). We do not establish an escrow account for disbursements of these payments. A set-aside account can be set up to pay taxes and insurance and may be required in some cases. Borrowers must occupy home as their primary residence and pay for ongoing maintenance; otherwise the loan becomes due and payable. The loan also becomes due and payable (and the property may be subject to a tax lien, other encumbrance, or foreclosure) when the last borrower, or eligible non-borrowing surviving spouse, dies, sells the home, permanently moves out, defaults on taxes, insurance payments, or maintenance, or does not otherwise comply with the loan terms. Interest is not tax-deductible until the loan is partially or fully repaid.
©2019 Finance of America Reverse LLC is licensed in 50 states and D.C. | Equal Housing Opportunity | NMLS ID # 2285 | www.nmls.consumeraccess.org | 8023 East 63rd Place, Suite 700 | Tulsa, OK 74133 Not all products and options are available in all states | Terms subject to change without notice | AZ Mortgage Banker License #0921300 | Licensed by the Department of Business Oversight under the California Residential Mortgage Lending Act | Georgia Residential Mortgage Licensee | Illinois Residential Mortgage Licensee | Kansas Licensed Mortgage Company | MA Lender/Broker #MC2855 | Licensed by the Mississippi Department of Banking and Consumer Finance | Licensed by the New Hampshire Banking Department | Licensed by the N.J. Department of Banking and Insurance | Licensed Mortgage Banker — NYS Banking Department where Finance of America Reverse is known as FAReverse LLC in lieu of true name Finance of America Reverse LLC | Rhode Island Licensed Lender | HUD HECMS REQUIRE PAYMENT OF INITIAL AND PERIODIC MORTGAGE INSURANCE PREMIUM.