Four Private Community Amenities that will Keep You Looking and Feeling Young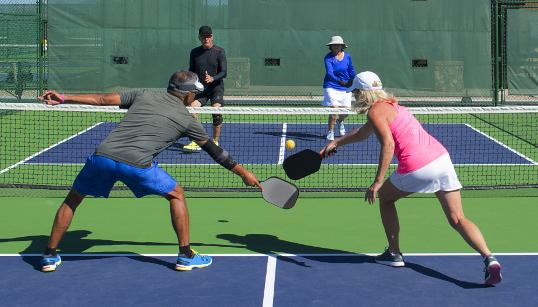 What amenities spring to mind when you think of private communities?

Golf? Tennis, perhaps?

These two cornerstones of the country club realm were favored by developers throughout the 80s and 90s and especially during the golf boom of the early 2000s when America added a new golf course to its inventory, daily.

But today's private communities offer golf, tennis and so much more.

In fact, many of them are chock-full of so many amenities and activities, residents almost need never to leave the property. "Lifestyle Design" is an industry buzzword related to creating a health and wellness framework aimed at physical longevity and social prosperity.

In that spirit, here's a look at four private community amenities that will keep you looking and feeling young, as well as several communities where you can design your optimal lifestyle for the long term while making friends for a lifetime.

1. Swimming Pools

In Private Communities Registry's "2020 Survey of Homebuyers and Renters Researching Lifestyle Communities," 73% of respondents indicated their prospective community must have a swimming pool. Little wonder, as a range of sources recommend swimming as the best overall exercise for those aged 55 and over.

The pool area at the Club at Ibis in West Palm Beach, Fla. is the heart of the club and community, featuring a 25-yard lap pool, resort-style swimming pool, kiddie splash zone and hot tub. Certified swim instructors are available for lessons and a number of in-pool classes, like Aquacise, are keep residents fit and injury-free.

Encanterra, a Trilogy Resort Community in San Tan Valley, Ariz., just 45 minutes southeast of Phoenix, has two clubs: 60,000 square-foot La Casa, with two pools, and 8,000-square-foot Algarve, with one resort pool. With both indoor and outdoor options, residents can swim year-round, almost any time of day.

2. Biking Trails

Cycling, whether it be on- or off-road, is an excellent low-impact cardiovascular activity that also strengthens muscles and tendons throughout the legs.

The Landings near Savannah, Ga. features more than 30 miles of multi-use trails winding through pristine tidal marshes and Spanish moss-draped maritime forests. Named one of "America's Healthiest Communities," The Landings is the first "Certified Sustainable Community" in Georgia designated by Audubon International.

It stands to reason that the nation's largest gated community would have an ample network of biking trails. And 26,000-acre Hot Springs Village in Arkansas delivers just that, and more, for its residents. Some 30 miles of secluded hiking, biking and walking trails are carved through thick strands of Southern hardwoods and babbling brooks.

St. James Plantation in idyllic Southport, N.C. enjoys an enviable location along the North Carolina's Brunswick Islands. Over 36 miles of bike paths meander through the community's numerous neighborhoods, clubs and open space. There are designated loops and tours ranging from 2.2 to 8.7 miles, and connectors for creating even longer routes.

3. Fitness Centers

Communities with fitness centers would seem to be obvious targets for buyers who value health and wellness. But not all fitness facilities are created equal, and many communities have raised the bar above and beyond the leading national gym chains.

Dataw Island in South Carolina's bucolic Sea Islands region is home to a spacious Community and Fitness Center with aerobic studio, yoga studio and workout room with state-of-the art cardio machines, free weights and circuit-training machines. The center is staffed by physical therapists and certified trainers to meet all its members' fitness needs.

There are fitness centers, and then there are Cresswind fitness centers. These boutique, active adult-living communities focus on healthy living. Case in point being Cresswind Peachtree City south of Atlanta. Its 17,000 square-foot clubhouse houses a full-service fitness center, indoor lap pool and spa and yoga-aerobics studio.

4. Racquet Sports

There was a time when tennis carried the racquet sport mantle at communities throughout the U.S. But since the rise of pickleball's popularity over a decade ago, more and more active adults are opting for this lower impact game played on a smaller court with solid paddles and a plastic ball.

Brunswick Forest outside of Wilmington, N.C. is one of the Southeast's best pickleball communities with several dedicated courts in multiple locations. The Fitness and Wellness Center also houses multiple lighted tennis courts for those who prefer a more traditional racquet sport experience.

As Naples, Fla. is the undisputed "Pickleball Capital of the World," we'd be remiss in not including a Collier County community. The Isles of Collier Preserve is a new development from Minto Communities just minutes from vibrant downtown Naples. Racquet sport junkies rejoice, as it features eight dedicated pickleball courts and six tennis courts.