Debunking Reverse Mortgage Myths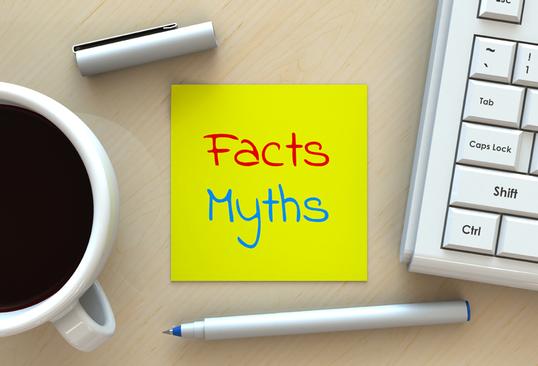 Reverse mortgages have been around for nearly 60 years, and they have significantly improved with borrower protections, yet some people still think they have a stigma of being a loan of last resort. To clear the confusion, this article addresses the five most common misconceptions surrounding reverse mortgages.
Reverse mortgages are not for everyone, but after learning the truth about these myths, you might find them to be the ideal financial tool to move into that perfect 55 and over golf community or as a potential lifetime line of credit, or both!
Request information about a Finance of American Reverse Mortgage
Here are 5 reverse mortgage myths debunked:
1. The bank will own my home.
The bank will not own your home. Even with a reverse mortgage, you still own your home. A reverse mortgage is similar to a standard mortgage; it's a lien on the house. While Home Equity Conversion Mortgage (HECM) loan documents are nearly identical to a typical traditional mortgage, they have far more borrower protections than typical loans provide.
As long as the borrower meets the requirements on the loan, they will retain ownership and retain the title. The requirements are simple: the home must be your primary residence, you must maintain the home, you must handle insurance, pay taxes, and handle HOA fees, when applicable. The only way you could lose your home is if you don't meet one of these requirements.
2. If I have a mortgage, I can't get a reverse.
You can still get a reverse mortgage even if your home is not fully paid off. If you have a substantial amount of equity in your home, you may still qualify for a reverse mortgage. An expert loan officer can help you determine what's right for your situation.
A reverse mortgage is a financial tool that eliminates the need to make monthly mortgage payments. For many borrowers, one of the primary objectives is to be mortgage-free, significantly improving monthly cash flow by eliminating monthly payment obligations.
3. Reverse mortgages have large out of pocket expenses.
Similar to traditional mortgages, reverse mortgages come with some costs and fees. The good news is that you can roll most of these fees into the loan. Most borrowers pay little to no fees out of pocket.
Finance of America Reverse LLC (FAR) even offers proprietary products that come with fewer fees than traditional mortgages.
Your lender should provide you with a detailed cost breakdown that explains the different interest and pricing options, closing costs, and fees, which can vary based upon the type and size of the loan.
4. I can't leave my house to my children.
With a reverse mortgage, you can still leave your house to your children. Just as in the first debunked myth, you still own your home.
At the end of the reverse, the loan needs to be paid off like any other mortgage. Your heirs can choose to keep the house by refinancing the existing mortgage balance, or if there is still equity, they can sell the home and keep what remains from the balance of the loan and the proceeds of the sale.
5. Reverse mortgages are only for desperate people.
This is untrue. Baby boomers are using today's reverse mortgage as a savvy financial tool. While many people use a reverse to pay off an existing mortgage, others are using the financial tool to defer collecting social security, or as a backup plan for unexpected expenses or medical bills.
Using a reverse or jumbo reverse, people are realizing their retirement goals. Whether you are trying to start a post-career business, travel the world, or fund an investment property, a reverse mortgage could help add choices to your retirement years. You can also buy a new home using a using a reverse for purchase tool. As with any financial decision, you should always consult with a trusted financial professional and an experienced reverse mortgage originator.
If you find yourself thinking a Home Equity Conversion Mortgage or proprietary reverse may be of interest, but still have more questions, feel free to call, text (404-313-9785), or email richard@mcreverse.com and find out more.

Richard W. McWhorter, NMLS 1618644, with McWhorter Mortgage, LLC, NMLS 1486483, is an independent reverse mortgage specialist exclusively serving Florida (FL LO-44137) and Georgia (GA 57530). With years as a CPA, real estate finance and residential development executive as well as a mortgage originator, he brings a perfect blend of experience, persistence and reverse mortgage knowledge to assist his 62 and over clients in securing their forever home, or just long-term financial peace of mind. Follow him on LinkedIn, the McWhorter Reverse Mortgage website or contact him directly at richard@mcreverse.com.
Finance of America Reverse LLC (FAR) is the top ranked reverse mortgage lender on Consumer Affairs. We are one of the oldest reverse lenders in the market today. FAR has been the #1 Wholesale reverse mortgage lender for 8 years and counting…
FAR is part of the greater Finance of America family of companies providing excellence in lending across residential mortgage, commercial, retirement, personal and student lending. Our foundation, Finance of America CARES, actively works to address the needs of seniors around the country.
Oregon Only:·When the loan is due and payable, some or all of the equity in the property that is the subject of the reverse mortgage no longer belongs to borrowers, who may need to sell the home or otherwise repay the loan with interest from other proceeds. FAR may charge an origination fee, mortgage insurance premium, closing costs and servicing fees (added to the balance of the loan).·The balance of the loan grows over time and FAR charges interest on the balance.· Borrowers are responsible for paying property taxes, homeowner's insurance, maintenance, and related taxes (which may be substantial). We do not establish an escrow account for disbursements of these payments. A set-aside account can be set up to pay taxes and insurance and may be required in some cases. Borrowers must occupy home as their primary residence and pay for ongoing maintenance; otherwise the loan becomes due and payable. The loan also becomes due and payable (and the property may be subject to a tax lien, other encumbrance, or foreclosure) when the last borrower, or eligible non-borrowing surviving spouse, dies, sells the home, permanently moves out, defaults on taxes, insurance payments, or maintenance, or does not otherwise comply with the loan terms. Interest is not tax-deductible until the loan is partially or fully repaid.
©2020 Finance of America Reverse LLC is licensed in 50 states and D.C. | Equal Housing Opportunity | NMLS ID # 2285 | www.nmls.consumeraccess.org | 8023 East 63rd Place, Suite 700 | Tulsa, OK 74133 Not all products and options are available in all states | Terms subject to change without notice | AZ Mortgage Banker License #0921300 | Licensed by the Department of Business Oversight under the California Residential Mortgage Lending Act | Georgia Residential Mortgage Licensee | Illinois Residential Mortgage Licensee | Kansas Licensed Mortgage Company | MA Lender/Broker #MC2855 | Licensed by the Mississippi Department of Banking and Consumer Finance | Licensed by the New Hampshire Banking Department | Licensed by the N.J. Department of Banking and Insurance | Licensed Mortgage Banker — NYS Banking Department where Finance of America Reverse is known as FAReverse LLC in lieu of true name Finance of America Reverse LLC | Rhode Island Licensed Lender | HUD HECMS REQUIRE PAYMENT OF INITIAL AND PERIODIC MORTGAGE INSURANCE PREMIUM.