What Types of Senior Living Communities Are There?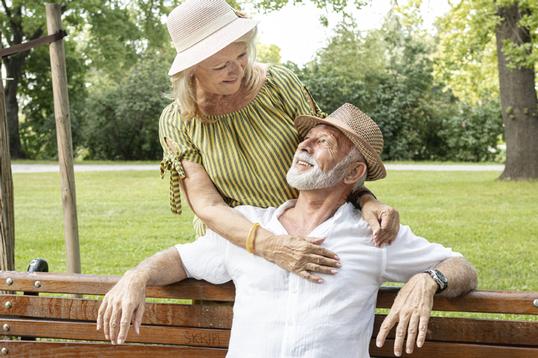 "What a drag it is getting old…"
So said the mighty Mick Jagger, but for all his wisdom, rest assured it doesn't have to be that way!
With more senior living options for retirees these days, there are options for all ages, needs, and lifestyles. Planning and deciding where to spend your golden years can be a stressful process, but with some well-informed research, finding a senior living community that offers comfort and peace of mind is easier than you might think.
Let's take a look at 5 popular senior living community options so you can determine which may be the best option for you or a loved one.
1. Age-Restricted Communities
This type of senior living community requires at least one member of the household to be a certain age, typically 55 or older. Most often geared toward active adults, these senior community real estate developments offer relaxed and autonomous living to residents. They are retirement-friendly, low-maintenance, age-targeted, and independent. If you're looking to live among people of your generation while maintaining a healthy and dynamic lifestyle, there are many benefits to living in an active adult, age-restricted community for seniors.
2. Independent Living
Independent living communities are a great option for seniors who are capable of living on their own, but choose not to. The reasons vary, from financial to maintenance and upkeep to simply wanting the camaraderie and social interaction with others of like mind and age. While most residents of independent living facilities are able to perform everyday tasks, these communities do offer services like meal planning/preparation, laundry, and housekeeping to ease the burden and allow retirees to enjoy life without the responsibilities of aging in place at home, alone. These communities offer a wide variety of senior living options including condos, townhomes, and apartments—each privately set up for residents to prepare meals and host gatherings with friends and family, while also providing a communal area for dining and other activities.
3. Assisted Living
When it comes to types of senior housing, many think independent and assisted living facilities are one in the same—but there are many key differences. Residents at assisted living communities have the freedom to live an independent lifestyle while still receiving regular support with daily activities like laundry, meal prep, transportation, meals, cleaning, and so on. Assisted living is a popular option for seniors who may be experiencing physical or cognitive decline and are unable to live on their own, but still looking to maintain a sense of freedom. With their own living space in what often resembles an upscale apartment complex, residents of assisted living communities have the ability to participate in recreational activities and social events with those who share similar interests. This is a senior living option that encourages seniors to be as independent as possible, but understands the limitations and unique needs of their residents.
4. Nursing Homes and Skilled Nursing Facilities
Skilled nursing facilities, aka nursing homes, offer senior living with 24-hour nursing care to residents. With specialized care often for those with Alzheimer's, dementia, or similar diseases, round-the-clock supervision and medication management is provided at all skilled nursing facilities. Licensed and regulated by state agencies to ensure proper care, they also provide all meals, transportation, housekeeping, laundry services and other help with basic activities. These senior living facilities are similar to assisted living, but with far more specialized and dedicated medical care.
5. Continuing Care Retirement Communities
Rounding out our list of senior living options are continuing care retirement communities (CCRC)—facilities that offer lifestyle and healthcare options from each of the aforementioned senior communities. From independent to assisted to skilled nursing care, continuing care retirement communities are often referred to as "life plan communities," as they provide all senior housing options on one campus and are ideal for those who only want to move once and gracefully transition through their later years in one place.
If you'd like to continue your research on different types of senior living communities, PCR is a great place to begin. You'll find many listings for senior living communities, and more.