New Year's Resolutions for Retirees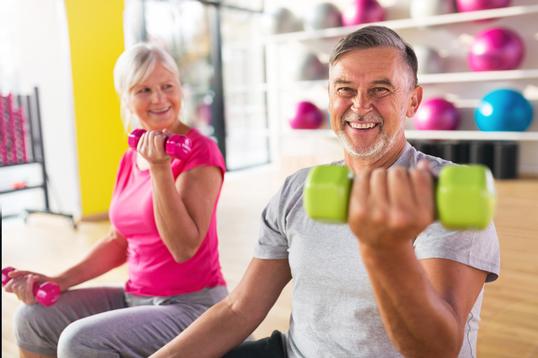 It's a new year, and one thing is certain: You're never too old for a fresh start. As active adults, we could make a case that New Year's resolutions for retirees get more important with each passing year. And it begins and ends with a focus on the things that are most important to you.
Here's a look at a few popular New Year's resolutions among our community, focused through the lens of active adult retirees...
Get Up, Get Out, Get Healthy!
Twenty minutes a day is all it takes. That's right, studies show that 20 minutes of low to moderate exercise can lower blood sugar, cholesterol, heart disease, and other chronic health problems. Many of today's active adult communities feature lavish gyms and countless activities to keep you vital and vibrant—from hiking and biking to skiing, tennis, pickleball, and more.
If your eating patterns and food habits have been less than stellar of late, it might be time to adjust and regulate your diet. Less fats, more fiber, fruits, veggies, and nuts are always wise choices. To that end, eating smaller meals more often can be ideal for many seniors (experts recommend five meals a day of smaller quantities). And adding a mix of vitamins and supplements to your diet can help balance what you might be missing in your regular diet.
Discover New Likes, Interests, and Hobbies
According to Psychological Science, older adults who are involved in mentally-challenging hobbies experience significant gains in memory and cognitive brain function. Hobbies and senior-friendly clubs/activities are also a great stress reliever and way to expand your social circle. Photography, scrapbooking, knitting, and even more active interests like boating and horseback riding are prominent within active adult 55+ retirement communities.
Learn New Technologies
Today's digital age is transforming the way we communicate and consume content. Sure, for us retirees, posting the perfect Instagram, following the right hashtags, and getting the latest Snapchat filters are pretty low on the priority list—but we should be able to understand today's platforms and devices on a basic level. With an increasing part of our lives revolving around Facebook, Twitter, LinkedIn, smart phones, and other web-based applications, now's the time to brush up on your knowledge and skills. Ask your kids or grandkids for a tutor session, look at some online tutorials, or take part in a community meet-up to bring your tech-savviness into the 21st Century.
Live For Today
We all know life is short. And for those of us on the "back nine," it makes much more sense...to live in the present tense. Make 2022 the year you give yourself a break. Check items off your bucket list. Get past any negative thoughts or ill will you might have toward friends and family. Reduce your belongings and clear out clutter. Volunteer, start a blog to share with the world (or simply write it for yourself). Our golden years should be about what makes our lives special and meaningful today, not yesterday's regrets or tomorrow's worries. So when you find yourself in the middle of a happy moment, acknowledge it, and as Kurt Vonnegut once told us to exclaim or murmur or think: "If this isn't nice, what is?"
Follow Your Bliss
Many of us have spent our lives working, saving, preparing, planning, and selflessly tending to whatever daily responsibilities get us closer to our goals. When it comes to New Year's resolutions for retirees, perhaps none is more important than finally settling into a life that suits our wants and needs. Wherever or however you find peace and happiness—in the mountains, on the ocean, nestled in the lap of luxury, or finally getting that swank vacation home—you can count on PCR when you resolve to find your perfect retirement community.