The Site of the First Thanksgiving...A Retirement Hotspot?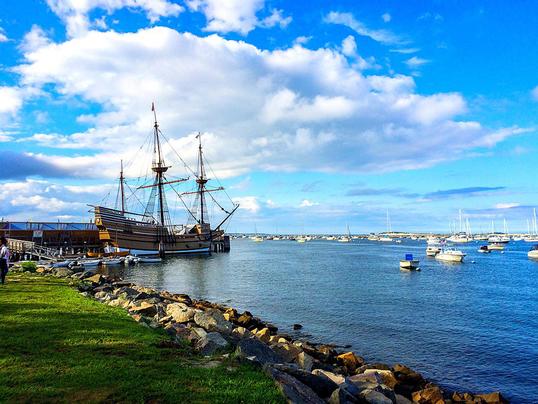 It was a harvest celebration held by the pilgrims of Plymouth colony in the 17th century. Who, after arriving at Plymouth Rock on the famous Mayflower in 1620, saw a land of riches and opportunity, and decided to make a go of it in this glorious "New World." They settled, they cultivated, they harvested, and then they feasted -- along with scores of indigenous Wampanoag natives who called the region home for thousands of years.
We're referring, of course, to the first Thanksgiving. And while much of what happened on that day remains the stuff of myth and mystery, one thing is certain: Plymouth County, MA, is a region of immense historical and cultural significance in our country's history.
Another thing we know for a fact? Famed Plymouth County is home to one of the best places to retire in Massachusetts…
Bay Club at Mattapoisett
There's a lot to love about New England retirement communities. You've got a full range of seasons and plenty of outdoor options for those looking for a more active lifestyle. You've got quaint coastal communities and historic towns with big cities never too far away. You've got favorable taxes for retirees. And if you're looking to zero in specifically on Massachusetts retirement communities, it all comes together at Bay Club at Mattapoisett.
A preeminent Massachusetts golf community, the Bay Club is a convergence of culture, conservation, and kinship, resulting in one of only two Certified Audubon Silver Sanctuary golf communities in the state. With one-third of the private, member-owned community's 625 acres dedicated open space, you'll be walking the same hallowed ground as the 102 colonists who started an enduring (almost 400 years!) tradition we now celebrate as Thanksgiving.
Close to Boston and only minutes from Cape Cod, Bay Club at Mattapoisett sits in the heart of Plymouth County, and consists of four distinct areas: Metrosouth and the City of Brockton on its western edge, Cranberry Country to the south, The South Shore, and of course Plymouth.
Living in Plymouth, Massachusetts
The pilgrims may not have been aware at the time, but they sure had a good eye for desirable real estate--striking paydirt when they hit Plymouth Rock! They were searching for a better life, free of persecution, so it was as good a spot as any to set up shop. But today the area is known as arguably the best place to live on the south shore of Massachusetts.
With a population of approximately 60,000, "America's Hometown" puts you in the middle of a rich history without sacrificing the convenience of modern-day living. Local boutiques, large retail centers, and no shortage of upscale and affordable dining with fresh seafood and other local fare give you plenty of options beyond the obvious historical Plymouth, MA, site visits.
About 40 miles south of Boston, Plymouth has established itself as one of the east coast's most desirable places to live, and can be particularly compelling for active adult retirees. The many outdoor recreational activities include popular destinations like Myles Standish State Forest and Ellisville Harbor State Park, unique cranberry bogs, and a high concentration of championship-level golf courses ranking it among the top Massachusetts golf communities.
Happy Thanksgiving From All of Us at PCR!
Whether you're already enjoying your ideal retirement lifestyle, deep in the research stages of life's new adventures, or just beginning to contemplate where you'll settle down for your next chapter, we are grateful to our community and thank you for allowing us to help you find your "New World."
And with that, the little red thing just popped up on our turkey timer...gotta go!
Image: John8v12 [CC BY-SA 4.0 (https://creativecommons.org/licenses/by-sa/4.0)], from Wikimedia Commons