5 Good Reasons to Retire in Nevada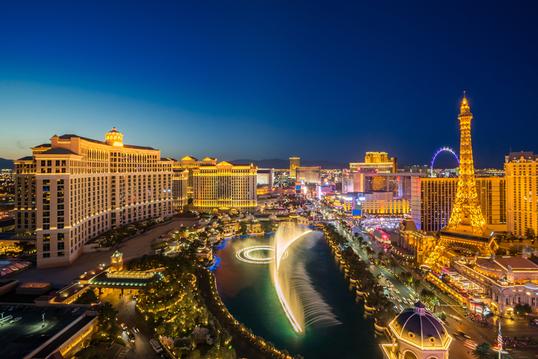 Is Nevada a good place to retire? The answer can be summed up in two words: Vegas, baby!
Actually, we know Sin City isn't everybody's cup of tea...and while nearly three-quarters of the people living in Nevada reside in the Las Vegas area, the Silver State offers many other great places to live. Like Reno, Henderson, and Paradise, off the top of our head.
Regardless of the particular city, baby boomers are attracted to Nevada for its year-round sunshine, outdoor recreational opportunities, casinos, golf courses, low cost of living, and slower-paced lifestyle with plenty of wide-open space for peace and quiet.
Let's take a look at the top five reasons to retire in Nevada.
1. Tax-Friendly. Not only does Nevada have relaxed gambling laws, but also some of the best tax benefits for retirees. Property tax rates are low and there is no state income tax, estate tax, or inheritance tax. Withdrawals from retirement accounts and public and private pension income are also not taxed.
2. Low Cost of Living. According to Zillow, the median home value in Nevada is $291,800, While that may still be a tick above the national average, retirees who choose Nevada will still pay far less for a home than they would in other retirement havens like Scottsdale, Palm Springs, and parts of Florida. As far as other expenses, things like grocery, health, and utilities are at or below average statewide, with much lower cost of living in smaller towns.
3. Pleasant Climate. Warm and sunny...music to the ears of almost every retiree. Nevada boasts a semi-arid climate with very light rainfall totals...and no snow to shovel! You'll also be far from hurricanes, risk very few earthquakes, and tornadoes are nearly non-existent. Sure, Las Vegas and other southern Nevada cities are known for triple-digit temps in the summer, but most of the year tends to be mild and warm where average temperatures vary from about 66°F in Carson City in the south to 47°F in Elko in the north.
4. Fun, Active, and Entertaining. Boredom shouldn't be an issue in Nevada—the gambling and entertainment capital of the world. Besides all the obvious attractions and excitement of the Las Vegas strip (gambling, shows, shopping, food, people watching, etc.), the state offers top-notch golf courses along with beautiful natural areas such as Lake Mead, Cathedral Gorge State Park, Hoover Dam, and Lake Tahoe.
5. Convenient For Friends and Family. If you're concerned about moving away from friends and family when you retire, you can rest a little easier when you end up in Nevada. An attractive tourist destination for all ages, frequent visits from your loved ones shouldn't be an issue. With many kid-friendly activities and attractions, your grandkids are sure to love their time in Nevada, and flights to Las Vegas' McCarran International Airport are pretty cheap and accessible.
If any of those reasons to retire in Nevada piqued your interest, we invite you to start your search by checking out PCR-featured community, Trilogy® in Summerlin®, a gated, 55+ active lifestyle community located on the western rim of Las Vegas.