The Autumn Years: Best States to Retire For Fall Foliage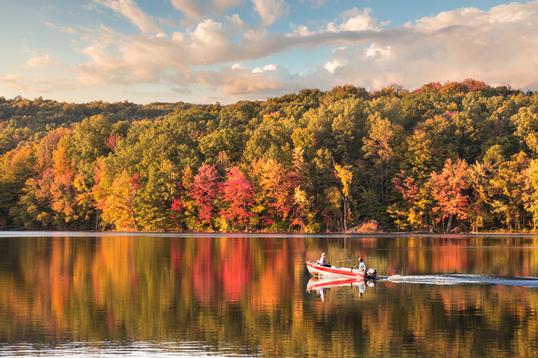 Here we go again. Mother Nature's getting ready to lock down. But each year around this time as she prepares for shorter days and colder temps, we're treated to something magnificent: Autumn.

There's so much to love about the fall. The crispness in the air. The pumpkin patches and apple cider. The Halloween festivities. And of course those beautiful colors. As the leaves change over to their vast and vibrant hues of red, orange, and gold, many autumn lovers flock to prime locations for premium foliage viewing. But if you choose to retire in one of these states, you'll find a community with an annual autumnal paradise right in your backyard.

Massachusetts
Fall foliage trips to the east coast never disappoint, but if you choose a Massachusetts retirement community, you won't have to go far to see a New England autumn in all its splendor. For water enthusiast retirees, yachting, boating, and fishing on Buzzards Bay and into Martha's Vineyard and the Elizabeth Islands becomes all the more sublime as the surrounding colors come to life.

New Hampshire
Among the best places to see fall foliage in New England, and the country for that matter, is New Hampshire. Known for quaint towns and large expanses of wilderness, you're all but surrounded by towering trees and their colorful leaves. Particularly noteworthy is Eastman in Grantham, New Hampshire—a spectacular venue for viewing fall color. With more than 3,700 acres of environmentally-protected woodlands and nature trails, just step outside to take it all in.

North Carolina
North Carolina is known for having one of the world's longest fall foliage seasons, and you'll need all that time with plenty of ground to cover. A drive along the Blue Ridge Parkway or a trip to the Great Smoky Mountains National Park will leave you spellbound by a beauty you just have to see to believe. We feature several North Carolina retirement communities with ample options for optimal foliage viewing in the Tar Heel State.

Pennsylvania
The Pocono Mountains are home to 127 indigenous species of trees, plants, and shrubs…and you better believe they flaunt their pigments and strut their stuff in September and October. Autumn is often the most glorious (and popular) time to visit the region, and if you make it your Pennsylvania retirement home, you'll have it made in the extremely colorful shade.

Tennessee
When you factor fall weather conditions in with foliage viewing, the great state of Tennessee tops the list for many. Some Tennessee retirement communities nestled in the foothills of the Great Smoky Mountains are an autumn-admirers' dream. Because if there's one way to experience the vivid colors of fall, it's in your secluded woodland lakeside estate.
Virginia
From Shenandoah National Park to the Potomac Heritage Trail to the entire historic towns of Alexandria, Richmond, and beyond, Virginia always delivers when fall rolls around. From mid-to-late October through early November, the leaves on the trees in Old Dominion beckon road trippers from all over the country. The best part? Virginia is also a great state to retire in and live year-round.