Top 5 Reasons to Live in a Gated Community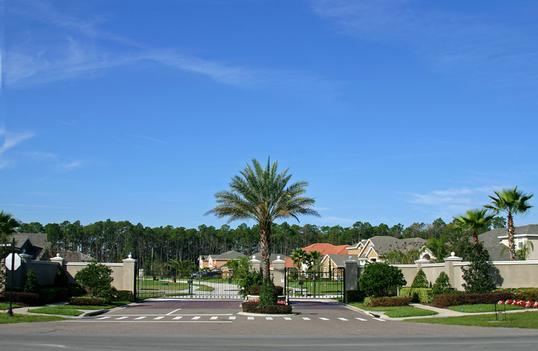 When we think about living in gated communities, it's easy to immediately be taken by the exclusivity, added status, and even air of mystery that comes with it. But there is a wide-variety of gated communities throughout the U.S., most of which offer far more meaningful, even tangible benefits.

Let's take a quick glimpse behind those gates and explore the top 5 advantages of residing in a gated community.

Why Live in a Gated Community

1. Security. The benefits of living in a gated community are many, but perhaps the most obvious and attractive perk of a gated community vs. a non-gated community is a sense of security. The sad reality is, crimes like burglary, vandalism, and home invasion are real concerns these days. With either a posted guard/attendant out front or coded entry required for access, residents of gated communities feel much safer knowing strangers are far less likely to be trolling the neighborhood.

2. Community. Private gated community residents share a mentality. When it comes to home ownership, they want to be surrounded by like-minded people with similar values. Odds are you're less likely to encounter inconsiderate neighbors—and with property regulations and HOAs, you can expect curb appeals that are cohesive and aesthetically-pleasing. Also, shared spaces, clubhouses, and regular planned parties promote a camaraderie not often seen in traditional neighborhoods.

3. Privacy. A world sans solicitors? Yes, please! If seclusion and minimal interruption from the outside world is what you crave, you'll find far more peace and quiet in gated communities. Watching the sunrise with your morning coffee, the after-dinner dog walk, or a serene evening on the patio all become a lot more relaxing without the external noise pollution and little to no thru-traffic.

4. Property Value. Sure, the cost of living in a gated community might be a little higher with HOA dues, but it balances out in a big way with an increased property value. Because your home will meet higher standards of quality and design, you mitigate the risk of losing property value during market fluctuations. A gated community adds value and is simply a good investment. You can rest easy knowing homes in a gated communities sell for $30,000 more on average than those in non-gated communities.

5. Lifestyle. For those with a proclivity toward physical activities, life in a gated community could be perfect for you. Things like golf courses, tennis courts, coordinated lessons, tournaments, and water-based fun are big draws among retirees and those seeking 55+ active adult communities. Many of today's popular gated communities take the whole healthy living lifestyle to another level with eco-friendly green community options, energy-efficient home designs, and the promotion of water conservation and indoor air quality.

Tips for Choosing the Right Gated Community
If you're not sure which gated community is right for you, start by defining the criteria that matters most—lifestyle, amenities, security, regulations, budget, and so on—then head over to the PCR Community Search to zero in on your perfect gated sanctuary. The results may pleasantly surprise you!