Smart Home Upgrades for Seniors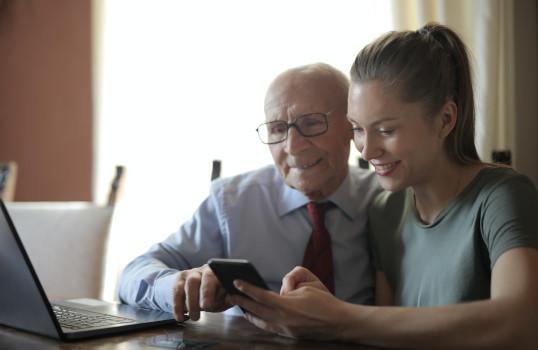 When it comes to choosing the best living environment for a senior, sometimes aging at home is the preferred option. There is comfort in being in a familiar, safe place. With careful thought and planning, there are various smart technology home improvements that can be made to provide an added level of security and comfort for aging seniors. Let's look at some of the smart home upgrades that can be made to benefit seniors aging in place.
Prioritize Home Security
Having a sense of safety at home is highly important for seniors. There are many ways smart technology can help older adults add safety and security to their homes. A smart home security system is one of the first things you can add to protect the home. These systems can be installed on the home's exterior, but also can be used for areas inside the home to further protect the home from burglary.
In addition to home security, you can incorporate smart locks that can be accessed remotely. These are helpful in an instance when a senior may wander, if they tend to forget their keys or if they have frequent visits from family or care providers. Having remote accessibility allows the senior or a family member to manage home security from their phone to ensure the home is secure during the night.
Add Smart Safety Features
Smart smoke detectors can be a great home upgrade as you can link them with a smart security system to alert loved ones of any instance where a fire occurs. For an added level of in-home safety, consider having a smart stove monitoring system installed. These systems can notify and alert individuals via email or text when the stove or gas is left on and unattended, which can help prevent fire in the homes of aging seniors.
One other smart home safety system you can have installed for seniors is an emergency contact system. These systems can be programmed by voice activation or have fall alerts to contact medical professionals in the case of needing emergency medical assistance. Programming a list of emergency contacts in the security system can provide more ease for a senior to connect with loved ones when they may need help.
Keep It Fun
Smart home upgrades do not have to be all business and safety, you can keep an element of fun! By adding a smart screen system with voice communication you can make keeping in touch simple.
Smart lighting and smart thermostats are great options to incorporate to keep retirement life at home easier. These are programmable to have set timers and run times to provide a level of energy efficiency. You can customize elements within smart thermostats such as the local weather forecast to provide updates to seniors at home. Smart lighting linked to voice activation technology can be a fun way for seniors to control the ambiance in their homes by changing lights depending on their mood or activity.
Plan For Updates
In addition to smart technology upgrades, you may choose to make other modifications for added comfort to safely age in place. For example, adding ramps and handrails, widening doorways, anti-slip modifications in the bathroom, kitchen accessibility modifications, flooring updates, etc. When considering these modifications, it's important to have a financial plan in place that'll cover any necessary expenses to create a better space for aging in place.
Depending on the scale of your project, you may want to explore what financing options are available. A home equity line of credit can be an option for funding senior home improvements. There are also other financing options you can research to determine if one would be better suited for your project. If the cost of the updates is smaller in scale, you may choose cash upfront or use a credit card in comparison to taking out a loan. Have a plan in place before you start making your updates so you can ensure you utilize the best option for your financial situation.
Upgrade Wifi
With the addition of smart home devices, it is important that the home has a stable and reliable internet connection. Connect with service providers in the area to discuss what options are available based on your location and needs.
Some providers offer contracts, unlimited data, or specialty bundles that can link to home security. Choose an internet plan that is best for the senior in conjunction with the smart home technology you choose, to keep them connected with their loved ones. You may even want to consider wifi extenders as well to cover the entire square footage of the home with a stable connection.
Final Thoughts
After you have put your smart home upgrades in place for you or your senior, you can focus on quality time together and maintaining their independence at home. Whether you live with each other, next door or miles away, you can support your loved one with remote access to provide connection and support. You can also receive push notifications from your smart technology should there be an emergency. There is comfort for both the senior and the family knowing they are digitally connected.