Fall Activities for Active Seniors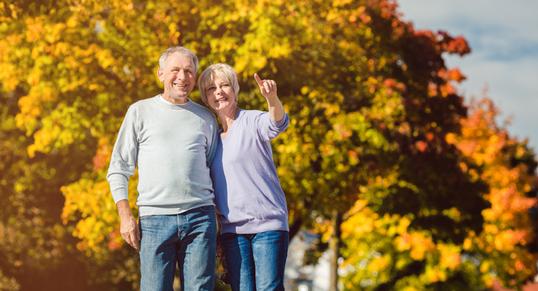 The dog days of summer are in our rear view mirror, and the holiday hustle has yet to come. That can only mean one thing…
It's fall!
For many, this is the "most wonderful time of the year." That brief period of respite where the air is crisp, the colors are phenomenal, and the mood is relaxed. There are also plenty of options for those who want to take it all in and enjoy the festive endeavors that only happen from late-September through mid-November.
If you're a senior and you love the season as much as we do, here are a few fall activities to keep you engaged and active.
Enjoy the foliage.
Taking in the beautifully changing colors and foliage is easily among the best fall activities for seniors. Heck, it's among the best fall activities for people of all ages. But for seniors looking to remain active, heading out for a hike or leisurely nature walk to enjoy the vibrant splendor of autumn is easy, fun, and rewarding in so many ways. Depending on where you live (or are planning to settle down if you're near retirement), here's a shortlist of the best places to retire if you love fall foliage.
Step out into the fresh, crisp air.
For active seniors, the best way to keep moving and further your health and wellness is to simply get up and get outside. And there's not a better time of year to do it than the fall. It's that brief but magnificent period where Mother Nature is preparing to lock down, but gives us a couple months of perfection before she does. The heat is no longer overbearing, the snow hasn't arrived yet, and as we just mentioned, the scenery is sublime. If you're a senior, fall is the ideal season to get out and stretch your legs, improve heart health, lower glucose levels, reduce pain, and boost your mood—all benefits associated with walking.
Check out a pumpkin patch.
Whether by yourself, with your spouse, or with the entire clan and grandkids, visiting a local pumpkin patch can be a great day excursion for active seniors. Regardless of where you live, chances are you'll not only find a patch or two in your region, but maybe even other similar fall activities like apple orchards, hayrides, corn mazes, and more. The best part of visiting a pumpkin patch? Bringing some fall gourds home to carve, cook, or decorate!
Get out and garden.
You read that right. While it may seem like most are preparing their plants, flowers, and lawns for the long cold winter ahead, fall is actually the best time of year to plant perennial flower bulbs. Depending on your region, gardening can be a really fun and active way to spend the waning days of autumn. Picking the seeds you want to sow (daffodils, tulips, allium, and hyacinth are a few of the most resilient), then getting out to plant can be an incredibly rewarding experience. If you're interested, here are some additional gardening tips for seniors.
Join a club or social group.
Our final fall activity for active seniors suggestion is to simply socialize with your community. As we've established, there's just something about this time of year that inspires breaking our routines and enjoying the season together. If you live in an active adult community for seniors, you'll find plenty of social clubs and event gatherings with festive fall themes. Arts, crafts, and knitting in particular promote happiness and mental well being—and can be a productive outlet to create gifts and keepsakes for family and friends as we head into the holidays.