Resources for Developers Home | Sales Training - 3 Entries

Melinda Brody & Company
For over 30 years, Melinda Brody & Company (MB&C) has specialized in video mystery shopping for the new home building industry. Highly skilled at working with production and custom home builders across the nation, MB&C prides itself on their very realistic shoppers, fast turnaround times, and easy access to shop summary reports and trend data via their cloud-based client dashboard.

Complimenting their mystery shopping services, MB&C provides interactive, customized sales training and coaching services for sales teams that are proven to improve sales presentations and increase sales.

John Weber Coaching
John Weber Coaching is a sales and marketing coaching firm challenging the status quo of the developer sales and marketing industry where salespeople try to grasp a changing world using old tactics and strategies. John Weber Coaching believes in thinking differently than ever before. The world is a different place where the customers feel they are on a level playing field using today's technology with the sales professionals of the world.

John Weber Coaching believes they can be a catalyst to achieve change, where sales professionals of integrity can help solve their customer's real problems, form lasting relationships and make a difference in their lives. The days of "hard closing" are over. Customers are more educated than ever before and John Weber Coaching brings new and innovative programs to develop lasting relationships, make your business memorable and make sales.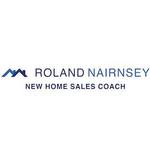 New Home Sales Coach
New Home Sales Coach offers expert advice in new home sales training from world-renowned sales trainer, coach, motivator, author, and speaker, Roland Nairnsey. Roland has been a real estate sales and thought leader for over three decades, and is a highly popular and sought after new home sales coach.

Roland personally sold well over 750 million dollars in home sales, and coaches sales teams to increase sales and customer satisfaction, with yearly sales in the many billions.

Roland is an international sales trainer, training many thousands of new home salespeople and Realtors® throughout the United States, Canada and students from as far away as India and Australia. He is a "hands on" sales coach, helping salespeople and managers increase sales and accomplish incredible results. Roland takes great pride in the many thousands of salespeople that he has personally coached and helped increase their sales with his proven processes and techniques.

Resources for Developers Home | Sales Training - 3 Entries