The Importance of Socialization for Seniors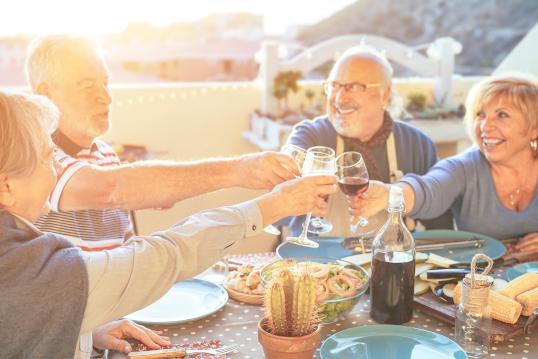 A lot of the attention on older adults is focused on improving their physical fitness. While certainly significant, it's also important to consider mental and emotional health as we age. A great way to ensure seniors can keep mind, body, and soul in balance and harmony? Socialization.
In this article, we'll take a look at the many physical, mental, and emotional benefits to socialization for seniors.
Mental Health Benefits
Many mental health benefits come from socialization. Socialization can help elderly people avoid loneliness. Sadly, this is widespread amongst older individuals. It's estimated that one-third of people who are over 45 are lonely—which has been linked to a range of serious mental health problems. While socialization can help, there are a few other ways that you can deal with this problem.
Social isolation has been shown to lead to an increased chance of depression and anxiety. On their own, these diseases can have a severe impact on quality of life. But they can also increase your risk of other serious health complications. For example, depression has been linked to a higher risk of heart attacks and might worsen any existing disabilities.
Having a strong circle of friends will allow you to talk to other people about your problems. This can help you put these things into perspective. Friends can offer advice on how to overcome issues and provide emotional support during the journey.
The level of socialization can also affect the way that older people view themselves. Those with strong social connections are more likely to have higher self-esteem. Supportive friendship groups will remind you of the gifts that you possess. They will be able to spot when someone is feeling down, and help build them back up again.
Understanding intricate social bonds can sometimes be a mental challenge. By testing yourself with complex puzzles, like interpersonal relations, you will be able to lower your risk of illnesses like dementia. Social groups can also help improve your mental recoil, as you need to remember the important details of your friends' lives, like the names of their children. This article goes into more depth about the benefits that socialization can have on the mental health of seniors.
Physical Health Benefits
Socialization isn't just a mental activity. It can be used to improve your physical health. For example, going to a gym with a friend can make the experience less intimidating. You can also give each other encouragement, so you will push yourself a little harder. Because of this, studies have found that those who were more social received more physical activity.
Furthermore, many social events have some physical element. For example, you might want to meet up with friends to walk around the park. At other times, you might want to meet up for some gardening.
It's recommended that seniors get 30 minutes of exercise each day. Regular exercise can help improve mood and boost mental health, aiding seniors in living a longer, healthier life. The National Association of Seniors Fitness has some great articles and resources to help seniors stay fit and healthy.
Having Fun
While the health benefits are undeniable, perhaps one of the biggest reasons people of all ages choose to socialize is to have fun with their friends. A strong social group will provide you with people that can push you out of your comfort zone. You can laugh together and share the pain during difficult times. This type of connection will last for years, as the bonds grow deeper over time.
Tips to Help Seniors Socialize
There are many ways that elderly people can boost their social lives. Usually, there is a range of groups in the area that are designed to provide safe spaces for seniors to meet up. This can be everything from a book club to a gardening group. Try looking on social media sites like Facebook or searching on meetup.com to find something that piques your interest. You can also maintain a strong sense of purpose by taking part in your hobbies. There will usually be local groups for those who are passionate about the same thing. If there isn't anything available, you might want to start your own group.
Many local charities will be looking for people to donate their time. This doesn't have to be a big commitment, often just a few hours a week can make a big difference.
Even if you have mobility problems, you should still be able to enjoy social aspects. For example, you will be able to use video calls to connect with friends and family, without needing to leave your home. There are also internet forums for seniors, where you can discuss life experiences and make virtual friends.
Sometimes, people might struggle with loneliness after the loss of a loved one. During this time, you might want to consider adopting a pet. They will be able to provide you comfort during this tough period. They can create a sense of companionship. Plus, pets will encourage physical activity and can prove a good icebreaker when meeting new people.
Find a Community That Promotes an Active Lifestyle
Socialization is important for people of all ages. But it's even more critical for older people who might find it harder to form strong social bonds. Many seniors and retirees look to spend their Golden Years by settling down in a master-planned lifestyle community. These communities encourage and promote socialization and physical activity with an array of inclusive amenities.
From planned clubs and activities to onsite fitness centers to walking trails, swimming pools, golf courses, dog parks, and more—living in a community has many perks and conveniences for seniors. PCR features hundreds of communities throughout the country with a wide range of low-maintenance real estate and amenities that will ensure you live a social, active, and fulfilled life.