The Increasing Popularity of Cottage Style Homes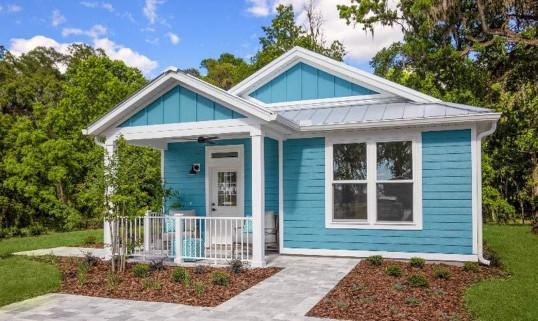 Quaint, charming, and economical with a distinct architectural style, cottage style homes have become a popular choice for many retirees and active adults.
We know what you're thinking. A cute cottage sounds like a wonderful place to settle down and live the simple life, but will I have to move deep into the forest or English countryside? Will my neighbors be elves and fairies? Not necessarily! In fact, today's builders and developers recognize the benefits and advantages of cottage homes and are incorporating these smaller and more cost-effective floorplans into many master-planned communities throughout the country.
In this article, we'll tell you a little about cottage-style homes and even help start your search with an overview of a few cottage home communities.
What Are Cottage Homes?
Perfect for those looking to downsize and simplify, cottage-style homes usually range from about 600 to 1,500 square feet and are known for their comfort, functionality, and character. While we think of traditional cottages as being small and cozy, often summer or vacation homes in rural areas—today's cottage-style homes are becoming more prominent in suburban neighborhoods, subdivisions, and even 55+ active adult communities.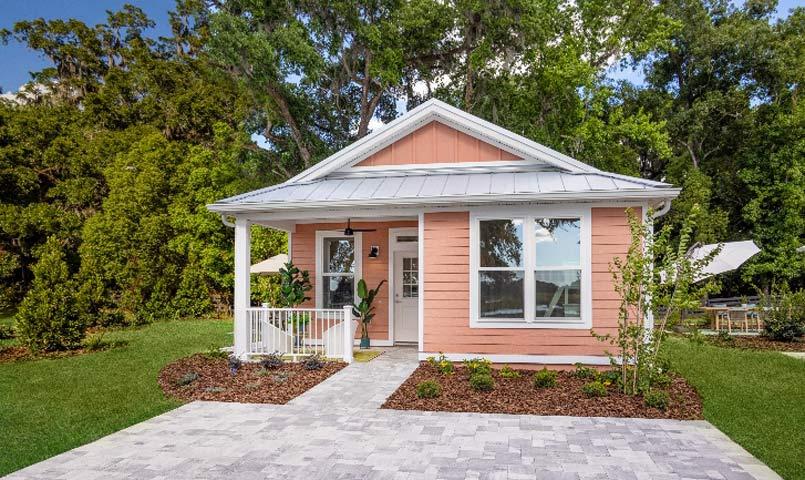 Cottage homes can be designed and built in many different architectural styles, most of which take on a more rustic, old-fashioned look and feel. Common elements can often include things like gabled roofs, stucco walls, bay windows, small front porches, and outdoor spaces that are natural and welcoming. Inside a cottage home, you'll usually find open and informal floorplans that emphasize comfort and coziness without feeling cramped and crowded. Because while the term "cottage" traditionally refers to a small house, all cottage-style homes are carefully created to prioritize space, favoring practicality and functionality over all else.
Cottage Homes vs. Tiny Homes: What's the Difference?
There's a common misconception that cottage homes and tiny homes are one and the same. But the truth is, there are some very distinct differences.
Size: True to their namesake, tiny homes are in fact much tinier than cottage homes—usually less than 600 square feet with kitchens, bedrooms, and living spaces that have an almost miniature essence. While cottage homes are still considered small houses, they're typically closer to 800 square feet on the low end (sometimes upwards of 1,200 – 1,500 square feet), with regular-sized bedrooms and plenty of storage options—some even have two stories.

Foundation: A defining characteristic of tiny homes is that they are often built on wheels so they can remain mobile. Cottage-style homes are typically built upon a permanent foundation in a fixed location.

Location: Because they're traditionally built to be mobile, tiny homes appeal to those who prefer to live more "off the grid," away from urban/suburban hustle and bustle. Tiny homes truly offer a new way of living, a much simpler—and cheaper—life. On the contrary, while cottage homes can still be a more affordable option for many homeowners, today's cottages are frequently just smaller homes in more traditional neighborhoods and communities.
Where to Find Cottage Homes
A quick and simple Google search of "cottage homes" will most likely return dozens of results of what are considered cottage-style homes right in your immediate area. Search other popular regions, states, and cities, and you'll get the same results: plenty of real estate listings of cottage homes in areas surrounded by neighbors and contemporary conveniences. Proof that modern cottage-style houses can now be found outside the more traditional rural and semi-rural settings that we may associate them with.
With pockets of cottage homes appearing in areas all across the United States, these uniquely simple and comforting abodes are becoming more and more popular among homeowners in search of small, single-family homes.
Communities with Cottage Homes for Sale
For those looking to reduce their footprint and live more modestly while still enjoying a low-maintenance lifestyle full of amenities and friendly neighbors, cottage home communities are a great option. Here are a few popular master-planned lifestyle communities with small, cottage-style homes for sale.
Lakeshore by Simple Life- Oxford, FL
Cottage homes priced from the high $100,000s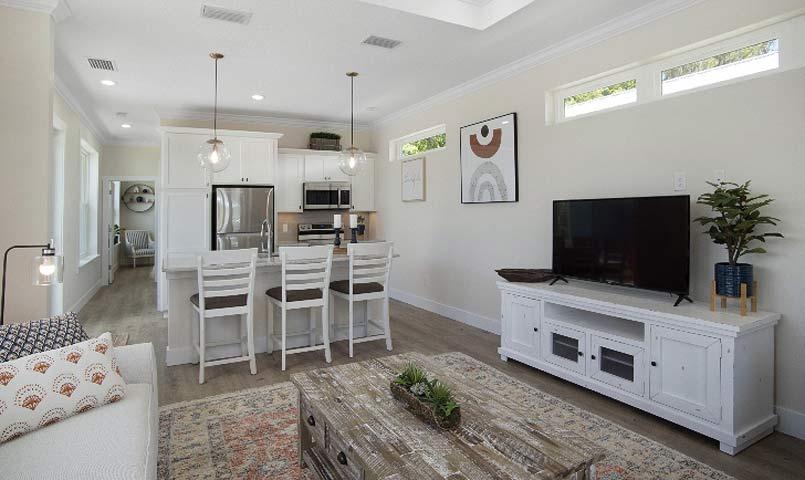 A new cottage home community in Central Florida, Lakeshore by Simple Life provides residents with a relaxed yet active lifestyle. Private amenities in this cottage community include a clubhouse, resort-style swimming pool, expansive fitness center and regular yoga classes, walking trails, bocce and pickleball courts, and more. The 223 cottage homes are thoughtfully designed and well-appointed, ranging from 585 to 1,085 sq. ft, perfect for those looking to downsize while living in a welcoming, low-maintenance environment.
Bear Lake Reserve- Tuckasegee, NC
Cottage homes priced from the high $200,000s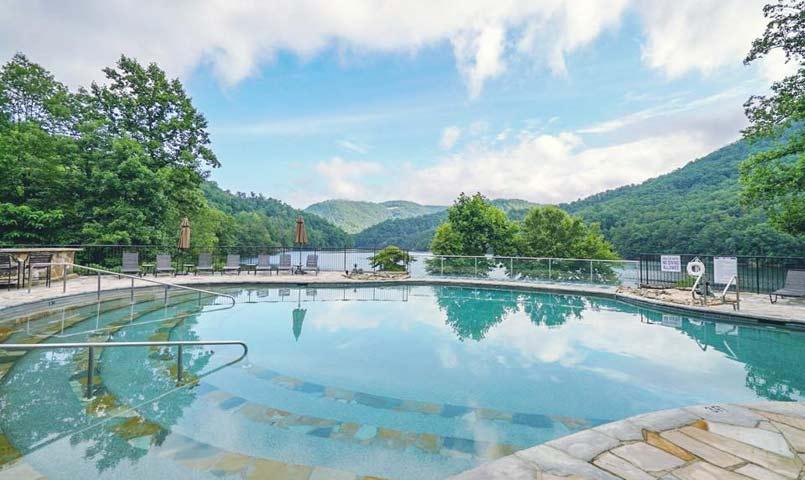 With a variety of fully furnished two-to-four bedroom cottages to rent, and others available to purchase, this 2,100-acre gated community in the heart of the Blue Ridge Mountains features a 14,000 square-foot Lake Club including a fine dining restaurant, a taproom, and a poolside food bar. Outside the Lake Club, residents find a heated swimming pool, a kiddie pool with a water slide, and two hot tubs. The Lake Club also has plenty of health and wellness options including a fitness center, spa, sauna, and a massage parlor.
Cullowhee River Club- Sylva, NC
Cottage homes priced from the mid $400,000s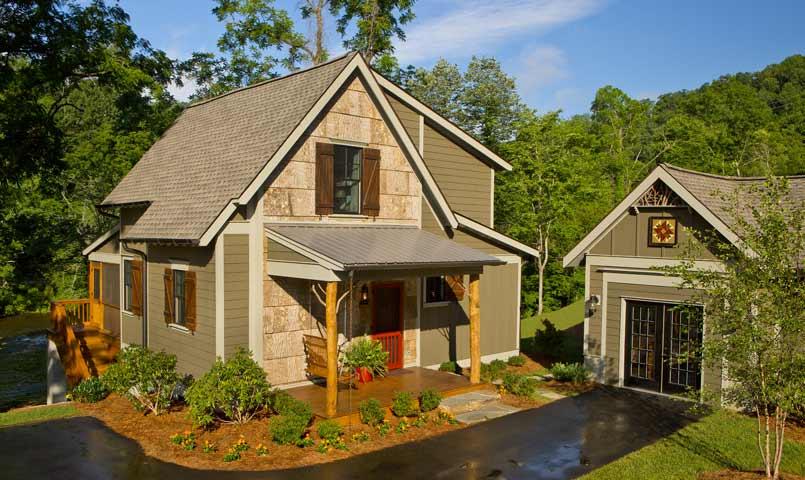 Another North Carolina community nestled in the Blue Ridge Mountains, a wide range of cottages and cabins are available to homebuyers—perfect for primary and second homes, as well as retirement living. The community surrounding Cullowhee River Club is home to the largest university west of Asheville, Western Carolina University (WCU). WCU is the center of Jackson County, bringing performing arts, sporting events, and festivals that highlight the Appalachian heritage of the area.
Crescent Communities on Lake Keowee- Seneca, SC
Cottage homes priced from the low $400,000s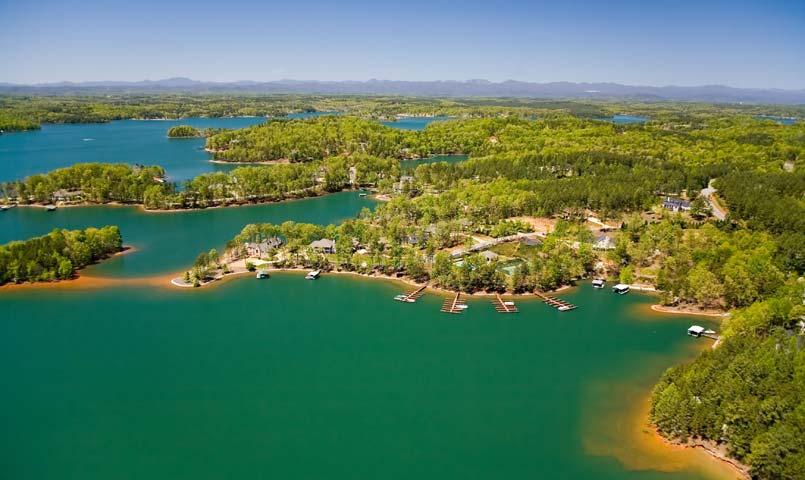 Surrounded by clear mountain views, green is everywhere along Lake Keowee's 300 miles of shoreline. The lake invites you to enjoy long days on the lake, fishing, water-skiing, kayaking and sailing ... or simply surround yourself with beautiful sunsets out on your boat. This Crescent Community development offers 31 waterfront homesites and nature trails, along with the Cottages at Riverbirch, a series of low-maintenance cottages starting at $400,000.
Port Ludlow- Port Ludlow, WA
Cottage homes priced from the mid $400,000s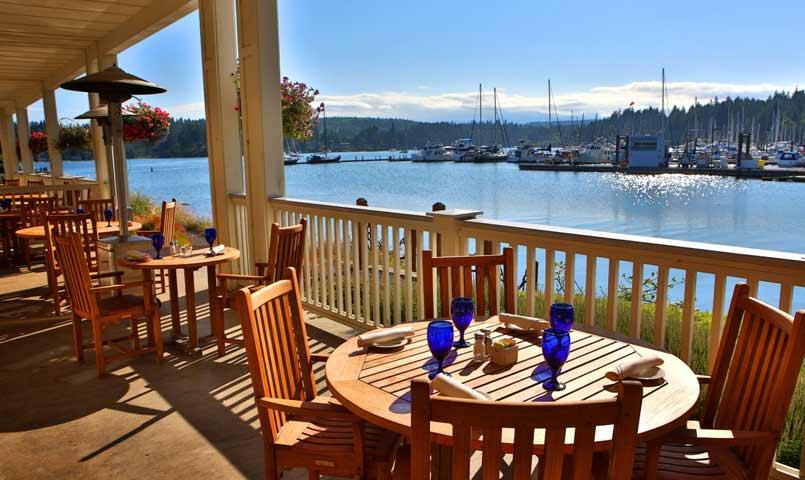 Located on the shores of the Puget Sound, less than two hours from Seattle with views of the Olympic Mountains, a bustling social life, waterfront inn and spa, and myriad of luxury and recreational amenities, this community has regularly been ranked as one of the top ten neighborhoods in the U.S. Within the community are the Ludlow Cove Cottages, a waterfront neighborhood featuring 42 cottage-style homes with 360-degree architecture, open concept floor plans, charming front porches, and master suites on the main level.
Find Your Cottage Home Community
Interested in exploring more communities that feature cottage-style homes for sale? PCR showcases dozens of cottage home communities in several states. Continue your search for cottage homes here to see photos, learn more about real estate and amenities, and request more information.