Did You Know You Can Buy a Home with a Reverse Mortgage?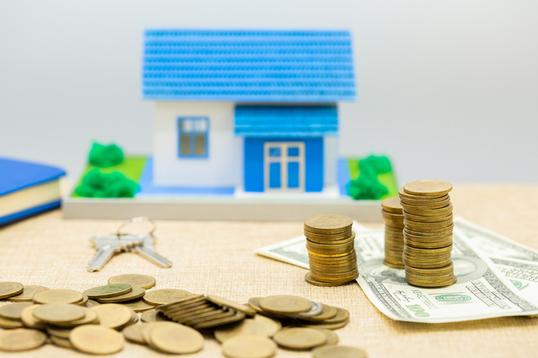 Reverse mortgages have become one of the primary drivers of 55+ communities over the last 3 to 5 years. In fact, Epcon Communities (one of the largest developers of 55 and over communities), stated after introducing their FHA Home Equity Conversion Mortgage for Purchase in 2013[1], "Now, 30% of our homebuyers utilize this buying option. After the closing, they only pay taxes, [insurance and] HOA fees…"
The reverse mortgage for purchase home financing option can make it easier and more affordable for homebuyers age 62 and older to buy a home that better fits their life. Essentially, it allows borrowers to obtain a reverse mortgage and buy a new home all within a single transaction regardless if it is an H4P or a proprietary jumbo reverse mortgage offered by lenders such as Finance of America Reverse LLC (FAR).
Request information about a Finance of American Reverse Mortgage
Here are the top 5 reasons you may want to explore this option.
1. You're selling your old home, and are considering an all-cash purchase…
If you simply don't want payments, 100% equity in non-liquid assets such as a home is not the only option. Consider putting half of that money in your new home and retaining the balance as part of your long-term financial plan, for traveling, for updating your otherwise perfect home for aging in place, or whatever you want.
2. Maximize your retirement planning options…
Long-term retirement planning can be stressful without having funds available for unexpected expenses ahead of time. Having cash on-hand could be the difference between solving a major problem as it arises versus having to scramble to find a home equity line of credit, rely on family, or being forced to sell
… all, at the worst possible time.
3. Add flexibility to your retirement plan with a line of credit…
The reverse for purchase can add flexibility to your retirement plan. You can choose to borrow the maximum amount at the time of the loan to pay for your new home or you can borrow less from the home equity and leave a portion of the loan in a line of credit. For those looking to downsize, the reverse for purchase could free up more assets from the sale of the previous home, adding funds to your retirement plan.
Interest is not drawn on the line of credit unless the money is taken out. Also, money not drawn on the line of credit is guaranteed to grow at the same interest rate that is being charged on the line of credit balance outstanding. This remains true even if your home value drops.
4. Increase your purchasing power…
Using a reverse for purchase gives homebuyers more purchasing power if they don't want to drain all their assets. It also gives them the luxury to get a better homesite, to add all the upgrades they want and to still have no mortgage payment.
Or, when you don't want to "settle" for a retirement home that doesn't match your dreams, you could use a reverse for purchase to afford a bigger, newer home with better amenities, in nicer neighborhoods within walking distance to shops and restaurants, or even the 55+ golf community you've always wanted.
You want maximum flexibility and safety for you and your heirs…
Unlike a regular mortgage or home equity line of credit, there are no personal guarantees and the loan cannot be called by the lender unless you are no longer the primary resident, default by ignoring home maintenance or not staying current on taxes, insurance or other homeowner fees. You no longer risk losing the home because the next economic downturn has caused the value of your home to decline below a typical bank's appetite for risk.
Concerned about what happens at the end of the mortgage? It's still your home! At termination, there are three options:
You and/or your heirs (should they want to keep the home) will simply owe the lesser of the loan balance or 95% of the appraised value.
Decide to sell? There are 6 months to repay the mortgage with, in most cases, two 3-month extensions available by showing the home is actively marketed.
Or, with no personal guarantees, you can simply hand the keys to the lender and walk away with no further obligations or impact on your credit.
Finally, FHA and HUD have cleaned up the reverse mortgage industry with far more protections, independent counseling and other items designed to insure your loan and your home remains in your hands. The home belongs to you. The lender simply has a lien like any mortgage.
These 5 great reasons are just the beginning of the benefits a HECM or proprietary jumbo reverse provides. As usual, you should always consult your financial professional or a reverse mortgage specialist to determine how it may be the perfect loan for purchasing your perfect home.

Written by: Richard W. McWhorter, NMLS 1618644, with McWhorter Mortgage, LLC, NMLS 1486483, is an independent reverse mortgage specialist exclusively serving Florida (FL LO-44137) and Georgia (GA 57530). With years as a CPA, real estate finance and residential development executive as well as a mortgage originator, he brings a perfect blend of experience, persistence and reverse mortgage knowledge to assist his 62 and over clients in securing their forever home, or just long-term financial peace of mind. Follow him on LinkedIn, the McWhorter Reverse Mortgage website or contact him directly at richard@mcreverse.com.
Finance of America Reverse LLC (FAR) is the top ranked reverse mortgage lender on Consumer Affairs. We are one of the oldest reverse lenders in the market today. FAR has been the #1 Wholesale reverse mortgage lender for 8 years and counting…
FAR is part of the greater Finance of America family of companies providing excellence in lending across residential mortgage, commercial, retirement, personal and student lending. Our foundation, Finance of America CARES, actively works to address the needs of seniors around the country.
Oregon Only: ·When the loan is due and payable, some or all of the equity in the property that is the subject of the reverse mortgage no longer belongs to borrowers, who may need to sell the home or otherwise repay the loan with interest from other proceeds. FAR may charge an origination fee, mortgage insurance premium, closing costs and servicing fees (added to the balance of the loan).·The balance of the loan grows over time and FAR charges interest on the balance.· Borrowers are responsible for paying property taxes, homeowner's insurance, maintenance, and related taxes (which may be substantial). We do not establish an escrow account for disbursements of these payments. A set-aside account can be set up to pay taxes and insurance and may be required in some cases. Borrowers must occupy home as their primary residence and pay for ongoing maintenance; otherwise the loan becomes due and payable. The loan also becomes due and payable (and the property may be subject to a tax lien, other encumbrance, or foreclosure) when the last borrower, or eligible non-borrowing surviving spouse, dies, sells the home, permanently moves out, defaults on taxes, insurance payments, or maintenance, or does not otherwise comply with the loan terms. Interest is not tax-deductible until the loan is partially or fully repaid.
©2019 Finance of America Reverse LLC is licensed in 50 states and D.C. | Equal Housing Opportunity | NMLS ID # 2285 | www.nmls.consumeraccess.org | 8023 East 63rd Place, Suite 700 | Tulsa, OK 74133 CNot all products and options are available in all states | Terms subject to change without notice | AZ Mortgage Banker License #0921300 | Licensed by the Department of Business Oversight under the California Residential Mortgage Lending Act | Georgia Residential Mortgage Licensee | Illinois Residential Mortgage Licensee | Kansas Licensed Mortgage Company | MA Lender/Broker #MC2855 | Licensed by the Mississippi Department of Banking and Consumer Finance | Licensed by the New Hampshire Banking Department | Licensed by the N.J. Department of Banking and Insurance | Licensed Mortgage Banker — NYS Banking Department where Finance of America Reverse is known as FAReverse LLC in lieu of true name Finance of America Reverse LLC | Rhode Island Licensed Lender | HUD HECMS REQUIRE PAYMENT OF INITIAL AND PERIODIC MORTGAGE INSURANCE PREMIUM.
[1] HECM For Purchase: A better home buying option than traditional reverse mortgage