Best Equestrian Communities in North Carolina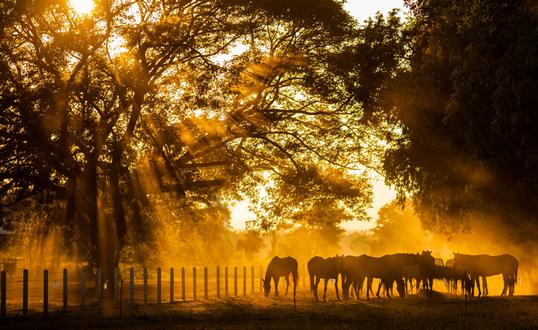 Picture this, horse lovers. You saddle up your steed and leave your parcel behind for a scenic and serene ride through a pristine national forest. Covering hillsides and valleys, the walk becomes a trot, gaining steam to a canter, which soon gives way to a full-on gallop. Eventually, you find yourself in the middle of a quaint little mountain town where you mosey for a bit before heading back to your homestead in hopes of outpacing the day's setting sun.
If you haven't guessed by now, you're in the heart of Western North Carolina, one of the country's best spots for those who want to live an equestrian lifestyle!
Sound intriguing? Then you'll want to check out this list of what we think are the best horse communities in North Carolina.
Sylva, NC
Balsam Mountain Preserve is a Western North Carolina mountain community with a history steeped in the preservation of its natural surroundings. Located less than 40 minutes west of Asheville, members of this gated community are treated to one of the best horse communities in North Carolina. Aside from a championship golf course, rustic lodge and restaurant, and sports & wellness center, the top-notch Equestrian Center features miles of spectacular trails, peaks, and valleys to explore on horseback.
Glenville, NC
Chinquapin is a gated conservation community situated at 4,000 feet in the heart of the Blue Ridge Mountains. This natural sanctuary from the hurried pace of the world provides equal parts solitude, adventure, and culture. Immersed in nature, Chinquapin offers a wide array of outdoor activities such as camping, fishing, hiking, and biking. But it's horseback riding that tops the list here, set against a backdrop of Panthertown Valley in the Nantahala National Park. This North Carolina equestrian community is a playground for adventure, recreation, and relaxation.
Lenoir, NC
With mountains, a scenic river, and 39 miles of trails for some of the best horseback riding in Western North Carolina, The Coves Mountain River Club is just about perfect for any equine enthusiast. Located here is Round Mountain Ranch, one of the only equestrian communities in the area that features a full service equestrian center. Buyers looking for horse properties in North Carolina can choose homesites with long range mountain views, riverfront property, pastoral views, equestrian land parcels, or private wood estates.
Banner Elk, NC
The Lodges at Eagles Nest is a gated mountain community—and with peaks nearly a mile high—one of the highest equestrian communities in North Carolina. A haven for year-round outdoor recreation, this family-oriented and unpretentious lifestyle community emphasizes the high country, not the country club. Residents have access to a full complement of amenities, sweeping views, freshwater streams, and miles of scenic trails to be explored by ATV, on foot, and of course, on horseback.
The Settlement at Thomas Divide
Bryson City, NC
Situated in the western part of The Tarheel State, The Settlement at Thomas Divide is designed for those who love an outdoor lifestyle. The community borders the Great Smoky Mountains National Park, and is hands-down one of the best equestrian communities in North Carolina. Horse owners here have access to a 16-stall barn, a dressage arena, and 28 rolling acres of horse pasture. Residents who crave an active lifestyle also indulge in ample trout fishing, whitewater rafting, boating, off road biking, and more.
Rutherfordton, NC
Setting the standard for best horse communities in North Carolina, Walnut Creek Preserve is an equestrian conservation community designed for horse owners who want to care for their horses on their own land but appreciate having a community of like-minded neighbors. With a high concentration of horse properties for sale in North Carolina, Walnut Creek features 2,100 acres, an exceptionally large riding tract, and 25 parcels—each with a pasture specially planted for horses, with mixed grasses suitable to the local climate and soils.