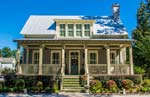 Beaufort, South Carolina
Celadon is a wellness-centered community located in Beaufort, South Carolina designed to promote healthy living and neighborly interaction. Community parks, ponds, walking trails, and picnic areas allow residents to enjoy the natural surroundings. Lots are priced from $120,000 to $200,000; Single-Family Homes featuring Lowcountry architecture are priced from the $600,000s to $1.2 million. Read More...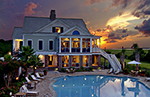 Beaufort, South Carolina
Coosaw Point encompasses 400 acres of Lowcountry woodlands and wetlands at a scenic waterfront location, 10 minutes from Beaufort and an hour from Hilton Head. The riverfront clubhouse is the anchor of community life, with a variety of recreational amenities. A deep-water boat basin and community dock offer direct access to the Intracoastal Waterway. Lots priced from $75,000 to $200,000; Homes priced from $600,000 to $2 million. Read More...