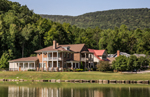 Chattanooga, Tennessee
This East Tennessee mountain community offers a championship golf course and a wide range of recreational amenities in a natural setting only minutes from downtown Chattanooga. Amenities include outdoor sports complex, nature trails, a dog park, tennis courts, clubhouse, fitness center, and more. Lots priced from $150,000 to $750,000; Townhomes and Courtyard/Patio Villas from $550,000 to $650,000; Homes from $550,000 to $5 million+. Read More...
McLemore –
About 22 miles from downtown Chattanooga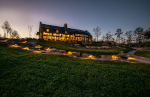 Rising Fawn, Georgia
A master-planned mountaintop golf community located in northwest Georgia, McLemore sits on 400 acres about 27 miles southwest of Chattanooga, TN. A paradise for nature lovers, the family-friendly resort community is situated on a rocky ledge on Lookout Mountain and features two award-winning golf courses, onsite dining, and an expansive clubhouse. Surrounded by an abundance of outdoor recreation opportunities, the community features premium Georgia real estate with several mountain and golf homesites and floorplans; Homesites priced from the $100,000s; Townhomes from the $800,000s; Homes from the $900,000s. Read More...