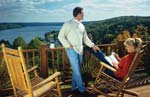 Waleska, Georgia
Buyers at this metro Atlanta gated community can choose from a range of custom homes nestled among the North Georgia mountains of Cherokee County, with private amenities and easy access to shops and services. Golf course and lakefront real estate is available, with homes priced from the high $200,000s to the low $800,000s. Read More...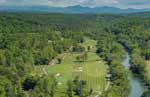 Mineral Bluff, Georgia
This North Georgia gated community is located 5 miles from downtown Blue Ridge and offers a mountain lifestyle with a links-style golf course, Toccoa River frontage with world-class fly fishing, nature trails, and a wide selection of mountain homes and homesites. Planned amenities include health/wellness facilities, swimming pool, tennis courts, a river pavilion, and more. Lots from from $85,000 to $250,000; Cottages/Homes from the $300,000s to $1.3 million+. Read More...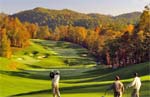 Clayton, Georgia
Situated on a North Georgia mountaintop, this gated golf community is surrounded by the Blue Ridge Mountains and Chattahoochee National Forest. Waterfall Club's Scott Pool mountain golf course features 18 holes, including the signature second hole above a 215-foot cascading waterfall. Club amenities include a clubhouse, athletic center, dock and boat rentals. Lots priced from $50,000 to $350,000; Homes and Condos priced from $500,000 to $3.5 million. Read More...