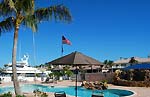 Vero Beach, Florida
Located on Florida's Treasure Coast, Grand Harbor is a waterfront resort in Vero Beach. Built with respect to natural surroundings and area wildlife habitats, the community features resort-style amenities including two championship golf courses, a 126-deep-slip marina, tennis & swim center and more. Mediterranean-style condominiums, townhomes, villas and single-family homes are priced from the $200,000s to $3 million. Read More...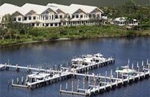 Palm City, Florida
Harbour Ridge Presented by HR Properties, on Florida's Treasure Coast, is situated on the North Fork of the St. Lucie River, with two miles of pristine deep-water riverfront and mile-wide views of the St. Lucie River. Tucked into a wooded peninsula, the 885-acre gated community features two nationally recognized championship golf courses designated as "Certified Audubon Cooperative Sanctuaries." Additional amenities include an active Yacht Club and three marina pods with direct access to the Intracoastal Waterway and the Locks leading to Lake Okeechobee and the west coast of Florida, a clubhouse, a robust tennis program with ranked players, a fitness center, dog park, and a natural habitat. Homes and condos priced from $75,000 to over $3.5 million; Rentals are available. Read More...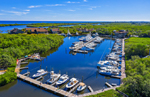 Hobe Sound, Florida
Loblolly Golf & Country Club is a private member-owned golf community located in Hobe Sound, FL. Just north of Jupiter Island and Palm Beach along the Intracoastal Waterway, this southeast Florida community offers members prime real estate, upscale amenities, and world-class golf. Aside from golf, members have access to a full-service marina, members-only clubhouse, onsite dining facilities, tennis and pickleball courts, swimming pool, spa, and fitness center. Condos, homes, and cottages priced from $850,000 to $3,500,000. Read More...