Tennessee Information
Tennessee offers natural beauty, a mild climate, rich culture, quality healthcare, and low cost of living. More than just a vacation destination, Tennessee is one of the top states to retire in.


Retire in Tennessee
Tennessee ranks among the lowest property tax rates in the United States. There is no state property tax. Instead, property taxes are locally determined and collected. Tennessee has many real estate opportunities: golf, tennis, equestrian, neo-traditional, retirement communities, gated communities and master planned communities.

Whatever your interests and hobbies, Tennessee provides the backdrop for the good life. Learn more about the benefits of retiring in Tennessee.




Activities
With its lively music culture, rich Civil War history, and diverse landscape, Tennessee has no shortage of activities to enjoy. Tennessee is home to Memphis, the birthplace of Rock 'n' Roll, and Nashville, the country music capital of the world, each of which offer legendary music studios, history museums, world renowned barbecue, and lively festivals. There are also numerous Civil War battle sites throughout the state with live re-enactments offered throughout the year.

The state has a surprising number of wilderness areas and natural attractions where the only sound is of mountain streams. In the eastern part of the state a series of stunning ridges and valleys rise up to the highest point of Clingman's Dome in the Great Smoky Mountains National Park. The state has a huge system of reservoirs, which offers 29 appealing lakes, filled with fish and offering water sports activities. This relatively small landlocked state is bounded on the west by the Mississippi River and on the east by the Appalachian Mountains, bordered in total by eight other states.
Low Cost of Living
Cost of living: 12% below the U.S. average
State Income Tax: None (on earned income; dividends and interest are taxed at 6%)
State Sales Tax: 7%
Average health care costs for a retired couple: Below average at $411,617

Tennessee's quality of life is high, and it's cost of living is low. Volunteer State residents enjoy the fifth lowest cost of living in the U.S., no state income tax on retirement funds, and below-average health care costs. For budget-conscious baby boomers considering the best states to retire in financially, Tennessee retirement communities offer a lot of options to stretch retirement income.
Mild Climate
The Tennessee climate can vary greatly due to the state's diverse topography, but generally the climate is moderate, with warm summers and mild winters. Spring and fall tend to be the best time of year (early fall is the driest time of year). The mountainous region in the east tends to experience the heaviest snowfall in winter, with the lowest temperatures in the state. Snow does fall in the rest of Tennessee, but tends to melt very quickly. The highest rainfall occurs in winter and early spring, with March being the wettest month and severe storms can occur, though usually infrequently. See average temperature and precipitation in Tennessee's metros below.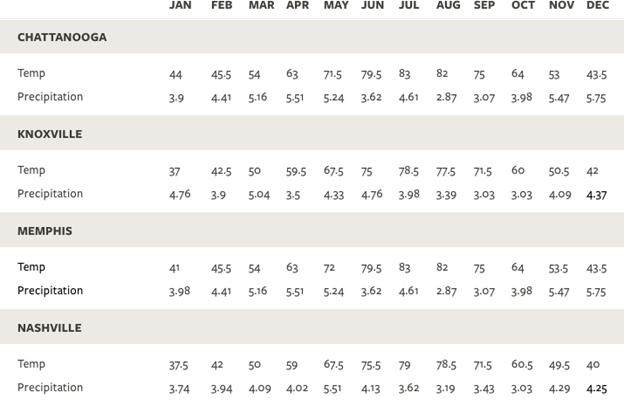 Kindly email updates to this page and suggestions for master-planned communities in Tennessee to add to this directory.